WILKIE COLLINS AND CHARLES DICKENS
| | |
| --- | --- |
| | |
| Artist's impression of Collins taken from an original photograph by Herbert Watkins | Dickens in 'A previously unpublished photograph' from The Bookman, November 1910 |
[ Introduction ] [ Household Words ] [ The Lighthouse ] [The Frozen Deep ]
[All the Year Round ] [ Final Years ]
[ Front Page ]
Collins first met Dickens in the spring of 1851, when they were aged respectively 27 and 39. The introduction came via their mutual friend, Augustus Egg, who recruited Collins to Dickens's amateur theatrical company. Dickens, already established as a major novelist, had been editing Household Words for two years. Collins, apart from his early journalism, had written only The Memoirs of William Collins, R.A., Rambles Beyond Railways and Antonina.
Collins effectively joined the Dickens circle on 4 March 1851, the date of Dickens's first recorded letter to him, and they met for the first time on 12 March. Collins rehearsed with the rest of Dickens's company Bulwer-Lytton's Not So Bad as We Seem, first performed on 16 May in Devonshire House before the Queen and Prince Consort.
Dickens and Collins at once took to each other and a friendship began which lasted until Dickens's death in 1870. Forster, in his 1873 biography of Dickens, wrote, in one of his few references to Collins in the book, that 'Wilkie Collins became for all the rest of the life of Dickens one of his dearest and most valued friends.'
In addition to performing in Not So Bad As We Seem during 1851 and on a highly successful provincial tour in 1852, Collins stayed with Dickens at Camden Crescent, Dover, in the summer of that year, the first of many such visits to Dickens's homes and holiday houses. Collins, always popular with children, enjoyed the family life that Dickens often found burdensome, and soon established a friendship with Catherine Dickens that survived her later separation from her husband. Dickens, for his part, attended a dance given by Harriet Collins at Hanover Terrace in April 1852, described by Millais, who recalled that Dickens came for about half an hour and officiated as principal carver.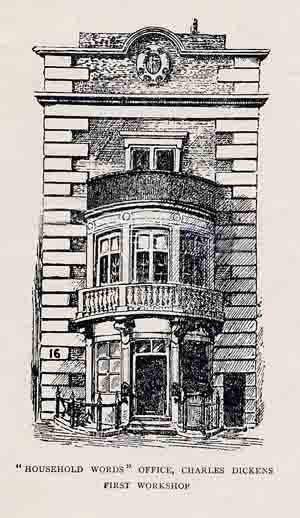 The Household Words office of Charles Dickens
Collins wrote 'A Terribly Strange Bed', the first of his many contributions to Household Words, in 1852, and was also working on his next full-length novel, Basil, which he completed while staying with Dickens at Dover. Though Dickens admired Basil and appreciated Collins's early journalism, he was careful to consider the susceptibilities of his readers. A few months later, in February 1853, he instructed Wills to reject Collins's story of hereditary insanity, 'Mad Monkton', fearing readers would object to it.
The association rapidly became one in which work and play were inextricably bound together. Dickens was by this time issuing invitations to Collins to go off on various jaunts which would supply material for Household Words, as well as recreation. They were often to be seen dining together at Verrey's restaurant, where a special table was always reserved for them, and they prowled the night-time streets of London and Paris together, visiting music- and dance-halls. On 20 December 1853 Dickens wrote from Tavistock House: 'I am open to any proposal to go anywhere any day or days this week. Fresh air and change in any amount I am ready for. If only I could find an idle man (this is a general observation), he would find the warmest recognition in this direction.' Soon they were planning a longer excursion to Italy with Augustus Egg.
Meanwhile, Dickens accepted 'Gabriel's Marriage', published in April 1853, and Collins had begun his next novel, Hide and Seek. That summer Dickens took his whole family to the Villa des Moulineaux at Boulogne, and invited Collins at the end of June. Unfortunately Collins suffered his first bout of serious illness that year and was only able to travel at the end of July. He returned to London in September to discuss Hide and Seek with Bentley, accompanying Dickens who was finalising the arrangements for his just completed Bleak House.
The Italian trip began on 10 October. Dickens, the undisputed leader, planned the route which took the three travellers through France, Switzerland and Italy. Though Dickens's letters are full of complaints about the irritating habits of his travelling companions, Collins's are enthusiastic and invariably complimentary about Dickens.
The three arrived home in London on 10 December. Dickens began work at the end of January 1854 on Hard Times, designed to revive the declining circulation of Household Words, whilst Collins was completing Hide and Seek. This was published in June and dedicated to Dickens 'as a token of admiration and affection.' Dickens admired the novel, which he described as 'in some respects masterly.'
Dickens joined the Garrick club in the spring of 1854 and Collins became a member shortly after, one indication of the closeness of their lives at this time. In July Dickens was in need of a respite from Hard Times and wrote to Collins from Boulogne: 'The interval I propose to pass in a career of amiable dissipation and unbounded license in the metropolis. If you will come and breakfast with me about midnight - anywhere - any day, and go to bed no more until we fly to these pastoral retreats, I shall be delighted to have such a vicious associate.'
Collins returned to Boulogne with Dickens for the rest of July and August. Other visitors were Wills, Egg, C. H. Townshend and Dickens's oldest friend Thomas Beard, the elder brother of Frank Beard who became the doctor of both Dickens and Collins.
In 1855 Collins was invited for the first time to act in the Twelfth Night children's theatricals at Tavistock House. Around the same time Dickens and Millais dined together at Hanover Terrace - an attempt by Harriet Collins to heal the breach between Dickens and Collins's Pre‑Raphaelite friends after adverse criticism of their paintings in Household Words. Collins then accompanied Dickens to Paris for two weeks in February. They stayed in accommodation arranged by Regnier, but Collins's enjoyment was limited by another attack of illness.
Collins's next story 'Sister Rose', was published in Household Words during April 1855. Dickens considered it 'an excellent story, charmingly written' and the French Revolution background may have had some influence on A Tale of Two Cities. Their next joint project was The Lighthouse, Collins's first play, produced by Dickens at Tavistock House.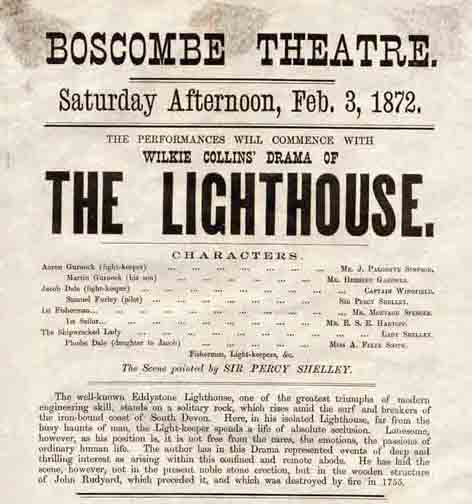 The Lighthouse at Shelley's Boscombe Theatre
During the summer Collins spent six weeks with Dickens at Folkestone, and planning began for the next Christmas Number, 'The Holly Tree Inn'. Collins contributed 'The Ostler' which later became better known as 'The Dream Woman'.
Dickens and his family spent the winter of 1855-56 in Paris. Collins was invited in January but was delayed by the first of three serious attacks of illness that year and eventually travelled at the end of February. It was during this trip to Paris that he found, while wandering about the streets with Dickens, Mejan's Recueil des Causes Celebres.
From the spring of 1856 Collins was contributing more frequently to Household Words. His earnings were increasing and Dickens wrote to Wills 'I think, in such a case as that of Collins's, the right thing is to give £50 [for A Rogue's Life]...a careful and good writer on whom we can depend for Xmas Nos. and the like.' By September, Dickens wrote again to Wills with a view to recruiting Collins to the permanent staff. 'I have been thinking a good deal about Collins, and it strikes me that the best thing we can just now do for H.W. is to add him on to Morley, and offer him Five Guineas a week. He is very suggestive, and exceeding quick to take my notions. Being industrious and reliable besides, I don't think we should be at an additional expense of £20 in the year by the transaction.' Dickens preferred Wills to conduct the negotiations rather than '...interpose myself in this stage of the business, solely because I think it right that he should consider and decide without any personal influence on my part.' Collins ultimately accepted the appointment on the understanding that his name would be advertised in advance for any 'long story'.
The next key event in their association was the production of The Frozen Deep. Although the play was written by Collins, it was jointly planned and the Arctic theme decided on as early as March 1856. In July Collins was invited to Boulogne and Dickens wrote 'I am charmed to hear you have discovered so good a notion for the play. Immense excitement is always in action here on the subject, and I don't think Mary and Katey will feel quite safe until you are shut up in the Pavilion on pen and ink.' Both men grew beards for the play and Dickens was eventually almost living the part of Richard Wardour. 'Took twenty miles to-day, and got up all Richard's words, to the great terror of Finchley, Neasden and Willesden.' Collins played Wardour's rival, Frank Aldersley and the first performance took place on 6 January 1857.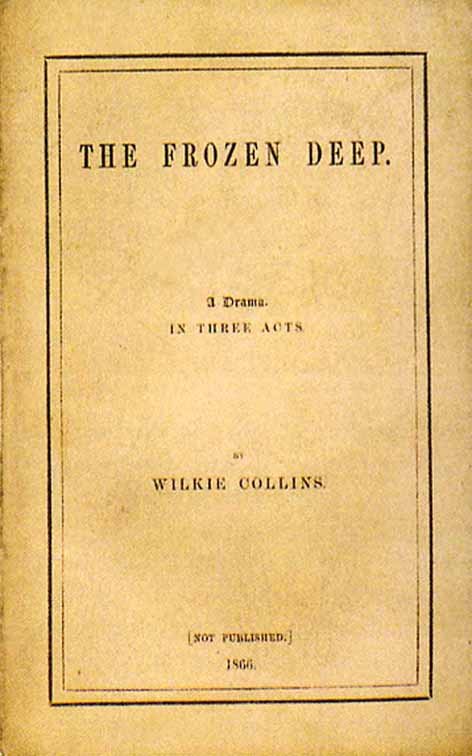 The Frozen Deep issued in 1866. This was printed but 'not published' for copyright reasons
Dickens took possession of his new house, Gad's Hill, in February 1857 although he was not able to move in until May. Collins was one of the first visitors, coinciding with Hans Christian Anderson who overstayed his welcome and was later parodied in Collins's 'The Bachelor Bedroom'. Dickens finished Little Dorrit and wrote to Collins 'Any mad proposal you please will find a wildly insane response in Yours ever, C.D.' and '‑ if the mind can devise anything sufficiently in the style of sybarite Rome in the days of its culminating voluptuousness, I am your man...If you can think of any tremendous way of passing the night, in the meantime, do. I don't care what it is. I give (for that night only) restraint to the Winds!'
In July 1857 Dickens and Collins resigned from the Garrick Club in support of Edmund Yates in what became known as 'The Garrick Club Affair'. Yates, another of Dickens's proteges, was attacked by Thackeray for publishing gossip he had heard at the Club. Thackeray asked for Yates to be expelled from club membership. The affair caused a rift between Dickens and Thackeray only healed shortly before Thackeray's death.
When Dickens's and Collins's mutual friend Douglas Jerrold died suddenly in June 1857, a revival of The Frozen Deep was arranged to contribute to a fund-raising effort for his widow devised by Dickens. After performances in London, the play transferred to Manchester towards the end of August for three public performances with professional women actors who included the young Ellen Ternan. Dickens was soon confiding in Collins 'I have never known a moment's peace or content since the last night of The Frozen Deep.' and, 'Partly in the grim despair and restlessness of this subsidence from excitement and partly for the sake of Household Words, I want to cast about whether you and I can go anywhere - take any tour - see anything - whereon we could write something together...I want to escape from myself... my blankness is inconceivable - indescribable - my misery amazing.'
Their 'escape' to Cumberland in September 1857 was written up as 'The Lazy Tour of Two Idle Apprentices', published in Household Words the following month. The destination was chosen by Dickens, who knew that Ellen's next engagement was in Doncaster. He decided on a walking tour, finishing at Doncaster for the races and the theatre.
Spring of 1858 saw the separation, by now inevitable, of Dickens from his wife. Collins had become the friend on whom he relied for sympathy in his predicament (though Collins was also one of the few who remained friendly with both Dickens and Catherine). Dickens wrote to him in May, 'Mr Dear Wilkie' [no longer 'My Dear Collins'] 'A thousand thanks for your kind letter. I always feel your friendship very much, and prize it in proportion to the true affection I have for you.'
Collins contributed numerous articles to Household Words during 1858, including two lead articles on which he collaborated with Dickens. He suffered another bout of illness and, escaping from the heat of London to recover, spent August in Broadstairs. A letter from Gad's Hill in September invited him to contribute to the next Christmas Number, which ultimately became 'A House to Let'.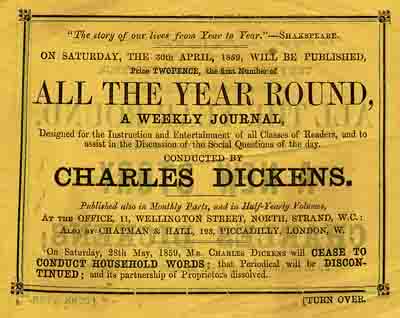 Advertisement for Dickens's All the Year Round
By the beginning of 1859 Dickens dissolved his partnership with Bradbury & Evans and launched his own paper, All The Year Round on 30 April 1859. Both Collins and his brother made contributions to the early numbers, from May and June respectively. Dickens's opening serial, A Tale of Two Cities, was relatively short and he needed to decide fairly soon on its successor. He could have selected an established or 'safe' author but was sufficiently confident of Collins by this time to rely on his writing as well as his friendship.
By the end of 1859, Charles Collins had also become a regular visitor to Dickens's household. He proposed to Dickens's daughter, Kate, the following spring. Dickens might have been happy to forge a closer link with Collins's family, though he found Harriet Collins irritating, but he was against the marriage because of his son-in-law's 'nervous and delicate health', and because he suspected Kate was only marrying him to get away from home. He did not, however, prevent the wedding, which took place in July 1860 with Forster and Townshend as witnesses.
At Gad's Hill in September 1860, Dickens made a great bonfire of letters from literary friends, including Collins, which accounts for the one-sided nature of their surviving correspondence. In October, the two writers travelled to the West Country for local colour and collaborated on the next Christmas Number, 'A Message from the Sea', which eventually sold over a quarter of a million copies.

In January 1861, Collins departed from All The Year Round after five years on the staff of Dickens's periodicals. With the success of The Woman in White he had become a household name in his own right and no longer needed a regular salary with the constraints of weekly contributions. Dickens took his resignation in good part, writing 'I am very sorry that we part company (though only in a literary sense) but I hope we shall work together again one day.' They did not collaborate again until No Thoroughfare in 1867, although Collins contributed one story to 'Tom Tiddlers Ground' that Christmas.
Dickens, however, serialized Collins's next novel, No Name, which ran for 45 instalments from March 1862. Dickens made several helpful suggestions whilst still maintaining his editorial authority. In September he wrote: 'I have gone through the Second Volume at a sitting and I find it wonderfully fine. It is as far before and beyond The Woman in White as that was beyond the wretched common level of fiction-writing.'
1862 was a bad year for Collins's gout and he was so unwell by October that Dickens, hearing of it from Frank Beard and remembering his own illness during the writing of Bleak House, volunteered to help. 'Write to me at Paris at any moment, and say you are unequal to your work, and want me, and I will come to London straight, and do your work. I am quite confident, that with your notes, and a few words of explanation, I could take it up at any time...I hope that the knowledge may be a comfort to you. Call me, and I come'. Collins didn't need to avail himself of this offer and was able to complete the story, himself. No Name was published in book form in December 1862 and a copy was sent to Gad's Hill in time for New Year's day. 'Many thanks for the book, the arrival of which has created an immense sensation in this palatial abode. I am delighted (but not surprised) to hear of its wonderful sale.'
In the same letter Dickens mentions that before going to Paris he will 'vanish into space'. Later, in August 1863, he says '...I am thinking of evaporating for a fortnight on the 18th.' These disappearances are discreet references to his continuing association with Ellen Ternan. He was soon to assume the identity of 'Mr Tringham' of Slough, an interesting parallel with Collins's later alter ego 'Mr William Dawson'. By this time Collins and Dickens had rejoined the Garrick Club and proposed Wills for membership. When he was blackballed they both resigned for the second time in March 1865, followed soon after by Fechter.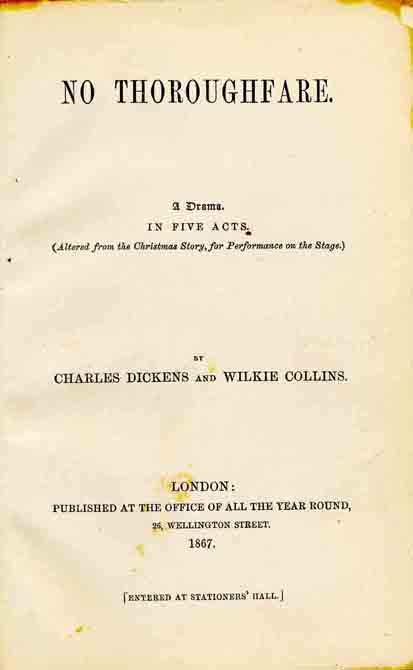 1867 printed version of No Thoroughfare
The two writers collaborated for the final time during 1867, writing No Thoroughfare for the Christmas Number. Dickens sailed for America from Liverpool on 9 November 1867 and Collins travelled north for his farewell party. 1867 also saw the serialisation of The Moonstone in All The Year Round. Dickens had written to Wills in June 'It is prepared with extraordinary care, and stands every chance of being a hit. It is in many respects much better than anything he has done.' The following year, however, he wrote to Wills in more critical terms, 'I quite agree with you about "The Moonstone".' The construction is wearisome beyond endurance, and there is a vein of obstinate conceit in it that makes enemies of readers.'
This criticism has been taken as symptomatic of an estrangement between Dickens and Collins. Yet as recently as December 1867 Dickens had written to Wills with comments such as, 'Tell Collins with my love', and in June 1868 still signed himself 'ever affectionately' in a letter enthusiastically discussing the Paris production of No Thoroughfare.
There are hints in Dickens's correspondence which suggest that one probable cause of any estrangement was his annoyance at the increasing entanglements of Collins's domestic arrangements. Another cause was Collins's brother. Charles Collins had been struggling since his marriage with both the difficulties of earning a living and the early symptoms of stomach cancer. Dickens, apart from employing him on All The Year Round, doubled Kate's marriage portion in 1867, and further gave Charles £150 in 1867 and £350 in 1868. He also agreed that Charles should provide the illustrations for The Mystery of Edwin Drood. Despite the apparent cooling of their friendship, Collins still visited Gad's Hill for a week in September 1869 and invited Dickens and family that year to the first night of Black and White. Dickens wrote to Wills that the play had real merit, and deserved to run.
In January 1870, Dickens wrote a formal letter, requested by Collins for legal reasons, establishing his copyright to everything by him published in Household Words and All the Year Round. 'I can have no hesitation in stating...You have the right, hereby freely acknowledged, of disposing of and publishing the same novels, tales, and articles in any way you think proper,' The accompanying, less formal note concludes 'I don't come to see you because I don't want to bother you. Perhaps you may be glad to see me by-and-by. Who knows?' It was apparently the last letter Collins received from Dickens, who died on 9 June 1870. Collins was shocked by the news and, of course, attended the funeral, travelling in the same coach as his brother and Frank Beard. In 1878 he stated that he had been asked to complete Edwin Drood but had 'positively refused'. He also refused to publish any reminiscences of Dickens, but did help Georgina Hogarth with her three volume edition of Dickens's letters, suggesting a surprising number of omissions which he felt advisable.
[ Top of page ] [ Front Page
]