After Dark is Wilkie Collins's first collection of six short stories, published in 1856. Collins provides a narrative framework, 'Leaves from Leah's Diary', set in 1827. Leah Kerby's husband, William, is a poor travelling portrait-painter forced to abandon his profession for six months in order to save his sight. Leah realises that if she acts as amanuensis William can support them by turning author. This situation may have been prompted by a period of eye-trouble suffered by Collins's father. In the preface to After Dark, Collins also acknowledges the painter W. S. Herrick as his source for the facts on which 'A Terribly Strange Bed' and 'The Yellow Mask' are based.
'The Traveller's Story of A Terribly Strange Bed' was originally published on 24 April 1852 as Collins's first contribution to Household Words.
Faulkner, the narrator, tells how as a young man he visited a low class gambling house in Paris. After breaking the bank, he accepts accommodation rather than risk taking his large winnings home late at night. The canopy of the four poster bed is attached to a screw by which it can be lowered from the room above to suffocate unsuspecting victims. Unable to sleep, Faulkner discovers the danger, escaping to return with the police.
The same plot was used in Uncle Z by Greville Phillimore (1881): and for 'The Inn of the Two Witches' (1913), a tale by Joseph Conrad who claimed never to have read Collins's story.
'The Lawyer's Story of A Stolen Letter' is an early detective story, probably influenced by Edgar Allan Poe's 'The Purloined Letter'. It was originally published with the title 'The Fourth Poor Traveller' in 'The Seven Poor Travellers', the Extra Christmas Number of Household Words for December 1854.
The narrator is a lawyer who contrives, in a series of ingenious moves, to steal back an incriminating letter from a blackmailer. The letter contains a confession to an attempted forgery by the dead father of a poor young governess, Miss Smith. The lawyer's success enables her marriage to a rich young man, Frank Gatliffe, to take place without the threat of scandal.
'The French Governess's Story of Sister Rose' is a long short story originally published in Household Words 7-28 April 1855. There is an added Prologue included in this version for After Dark. The first separate publication was a pirated edition by Petersons of Philadelphia in 1855 where it was wrongly attributed to Dickens.
Set against the background of the French Revolution, the story concerns Louis Trudaine; his sister, Rose, who contracts an unhappy marriage to the aristocratic Charles Danville; and Danville's land-steward, Lomaque, who is indebted to Trudaine's father. Trudaine fulfils a deathbed promise to his mother to protect Rose and arouses Danville's animosity. Danville denounces Trudaine to the revolutionary authorities, implicating Rose. Through his lies at their trial, both brother and sister are both condemned to the guillotine. Lomaque, who has become a police agent, saves their lives by removing their names from the death list with a chemical formula. Freed by the downfall of Robespierre, the brother and sister confront Danville three years later as he is about to remarry. He is rejected by his mother and killed in a duel. The Trudaines and Lomaque return to the tranquillity of the family home in Rouen.
The story is a likely influence on A Tale of Two Cities (1859), set in revolutionary France and featuring an escape from prison through substitution.
'The Angler's Story of The Lady of Glenwith Grange' was published for the first time in After Dark.
Ida Welwyn promises her dying mother that she will always look after her younger sister, Rosamond. Against Ida's better instincts, Rosamond marries Baron Franval whom she meets in Paris. A French police agent exposes the Baron as an impostor called Monbrun and he is killed while trying to escape. Rosamond dies of shock leaving her retarded daughter to be brought up by the reclusive Ida at Glenwith Grange.
'The Nun's Story of Gabriel's Marriage' was originally published in Household Words, 16-23 April 1853. The plot was rewritten as the basis for the play The Lighthouse in 1855.
The scene is Brittany at the time of the French Revolution. Gabriel Sarzeau becomes estranged from his fisherman father when he discovers that he committed a murder. Before his marriage, Gabriel confesses his knowledge to Father Paul, a fugitive priest. Father Paul reveals that he was the victim but survived his wounds. He performs the marriage ceremony, forgives his attacker, and reconciles father and son.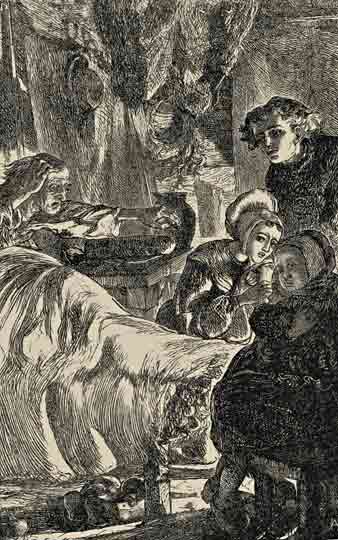 Illustration of 'Gabriels Marriage' from the Chatto & Windus edition
'The Professor's Story of The Yellow Mask' was originally published in Household Words, 7-28 July 1855. The story uses the idea of making a mask from the cast of a statue, first employed in Mr Wray's Cash-Box (1852). A second theme, of recovering money for the Church, reappears in The Black Robe (1881).
Count Fabio d'Ascoli is a pupil of the master-sculptor, Luca Lomi. Lomi's brother, Father Rocco of Pisa, believes that part of the young Count's inheritance is money stolen from the Church. In order to recover it, Rocco plans to have Fabio marry Lomi's daughter, Maddalena, over whom he can exert influence. He persuades Fabio's true love, the naive model Nanina, to leave Pisa. The marriage takes place but Maddalena dies the following year after the birth of a daughter. Rocco decides to play on Fabio's superstitions to prevent him from remarrying. He employs the mercenary Brigida to impersonate Maddalena at a masked ball by wearing a yellow mask over a cast of Maddalena's face. Fabio is so shocked at the ghost of his dead wife that his mind is temporarily unhinged. Nanina is able to prove that he has been tricked by natural means and they are happily married.
For first publication see individual stories above.
2 volumes, Smith, Elder, London 1856. Dark grey-green cloth, covers blocked in blind, spines lettered in gilt, pale yellow end-papers. Half-title in each volume. Published in February 1856. Variant binding in paper boards, half cloth, with white end-papers.
Vol I viii + 316 pp. 16 pp publishers' catalogue bound in at end (dated January, February or April 1856).
Vol II (iv) + 324 pp. Publisher's advertisement occupies p. (323).
Smith, Elder 1859-1890 (with 5 Illustrations by [A. B. Houghton]); Chatto & Windus 1890-1925.
Dick & Fitzgerald, New York [1856].
German, Lemgo 1859; Polish, Lwow 1871; Dutch, The Hague 1876.