'True remorse depends, to my mind, on a man's accurate knowledge of his own motives.'
[Plot Summary] [Publishing History]
1881 first English edition in three volumes
Wilkie Collins's novel was published in 1881 and elaborates on a theme first used in 'The Yellow Mask' (1855). In both, a high ranking Catholic priest schemes to recover property he considers to belong rightfully to the church. Mr Murthwaite, the renowned traveller from The Moonstone (1868), makes a very brief appearance as does Dr Wybrow, first seen in The Haunted Hotel (1879). Collins wrote to William Winter in September 1881 that it was thought in 'Roman Catholic countries as well as Protestant England, to be the best thing I have written for some time. And it is especially memorable to me as having produced a freely offered gift of forty pounds from one of the pirates on the American side!!!' The pirate was probably George Munro of the Seaside Library.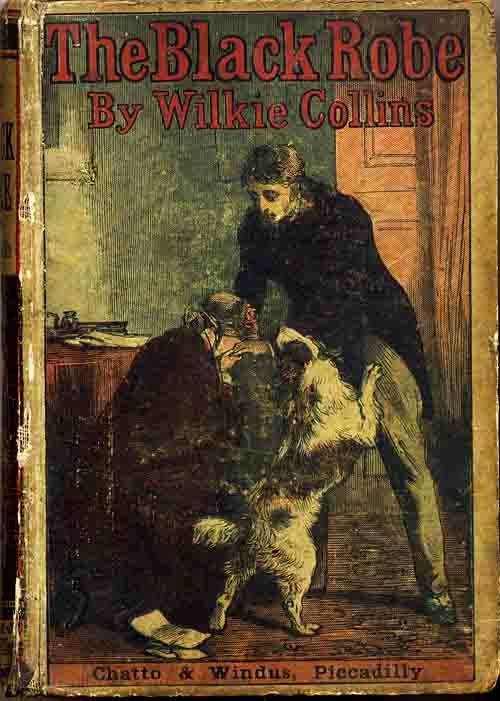 1885 Chatto & Windus yellowback
Lewis Romayne, accompanied by his old friend Major Hynd, is in Boulogne to see his dying aunt. He is involved in a quarrel over a card game, challenged to a duel and accidentally kills his opponent. The plaintive screams of the dead Frenchman's younger brother afterwards haunt Romayne for ever.
Distracted with remorse, Romayne returns first to London and then to his Yorkshire home, Vange Abbey, confiscated at the dissolution of the monasteries and given to one of his ancestors by Henry VIII. Even at Vange he still hears the French boy's voice and escapes to London to visit another old friend, Lord Loring, head of a prominent Catholic family. Staying with Lady Loring is Stella Eyrecourt who falls in love with Romayne. Father Benwell, acting as the Lorings' spiritual advisor, is determined to convert Romayne and restore Vange to the church with the help of the young priest, Arthur Penrose.
Romayne, vulnerable and still troubled by the duel, sends Major Hynd to enquire about the Frenchman's family, now living in London, hoping he can at least assist them financially. He also confides in Penrose who, despite his ulterior motives, forms a genuine friendship with Romayne and accepts that marriage to Stella, though she is a Protestant, is best for his long-term happiness.
Benwell plans to undermine the marriage and introduces Romayne to the wealthy Bernard Winterfield whom he knows has a past connection with Stella. When Stella's worldly mother is taken ill Benwell meets her physician, Dr Wybrow, who innocently mentions Stella's earlier romance with Winterfield. Wybrow also talks of a deranged French boy (in fact the duellist's brother) found with papers stolen from Winterfield. Benwell agrees to return the documents but first breaks the seal to discover they contain a confession from Winterfield's separated wife Emma, now dead, a circus performer and a drunkard. Jealous of his love for Stella, Emma arranged for a false announcement of her death to be put in the papers, and then greeted him outside the church after the bigamous marriage ceremony. Stella was immediately removed by her relatives and the marriage hushed up.
Penrose is called to Rome and then sent to a mission in America. Benwell resolves to manage Romayne's conversion himself and succeeds where Penrose failed. Romayne, not knowing that Stella is pregnant, goes to a Retreat where Benwell cleverly manoeuvres him into leaving Vange Abbey to the church in his will. Benwell also tells Romayne that in the eyes of the church he is still a single man. Winterfield's registry office wedding to his first wife, though legal, is not recognised by the Catholic authorities. His second marriage to Stella, although annulled by the courts, is irrevocably recognised by the church. Romayne's own marriage to Stella is therefore void and he is free to fulfil his vocation to become a priest.
Stella leaves England to live with her mother in Paris. Winterfield, still in love with Stella, is anxious to avoid any further scandal. He therefore takes a long sailing trip to the East, returning via Rome where he learns that Romayne has made rapid advancement in the church because of his diplomatic skills. Reading a report in The Times by Mr Murthwaite that Penrose is held captive by American Indians, Winterfield embarks on a successful rescue.
Romayne has been promoted to an ecclesiastical post in Paris but, knowing he is dying, consents for the first time to see Stella and his son. Benwell brings Romayne's family lawyer to his death bed to confirm the validity of the will and ensure the church can inherit Vange. In his last moments, Romayne finally acknowledges his love for his wife and child and the will is destroyed. The inheritance passes to his family and not to the church. Stella fulfils Romayne's final wish and marries Winterfield.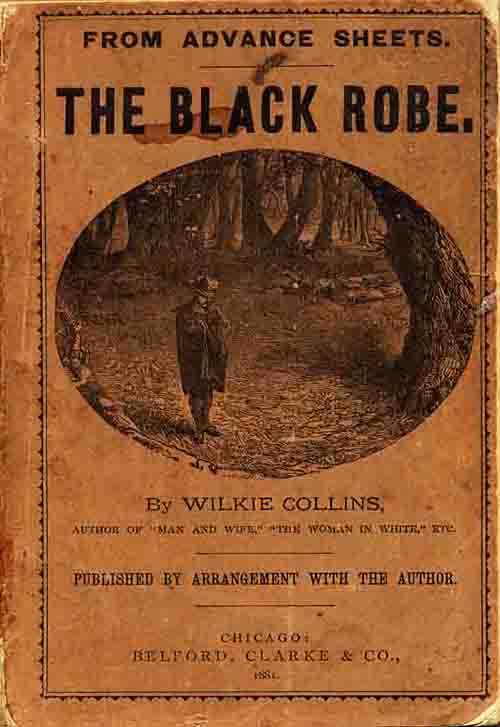 1881 US edition by Belford, Clarke of Chicago
Serialisation
The Sheffield and Rotherham Independent Supplement, 2 October 1880--26 March 1881 ('Specially written for The Independent'), and several other provincial newspapers; The Canadian Monthly, November 1880--June 1881.
Book Publication
First edition
3 Volumes, Chatto & Windus, London 1881. Black cloth, covers blocked in white, spines lettered in gilt. Blue and white floral end-papers. Half-title in each volume. Published in April 1881.
Vol I viii (numbered vi) + 320 pp
Vol II viii (numbered vi) + 296 pp
Vol III viii (numbered vi) + 272 pp. Publishers' advertisements occupy pp (267-272). 32 pp publishers' catalogue dated March 1881 bound in at end.
Second edition, 3 volumes, 1881.
1 volume Chatto & Windus editions 1884-1901. Sutton, Stroud 1994.
1st US edition
Seaside Library, New York 1881.
Translations
Russian, St Petersburg 1881, 1882; German, Berlin 1882.
[Top of Page] [Main works] [Front Page]