THE HAUNTED HOTEL: A MYSTERY OF MODERN VENICE, TO WHICH IS ADDED MY LADY'S MONEY
'Have you ever heard of the fascination of terror?'
[ Plot Summary ] [ Publishing History ] [ My Lady's Money ]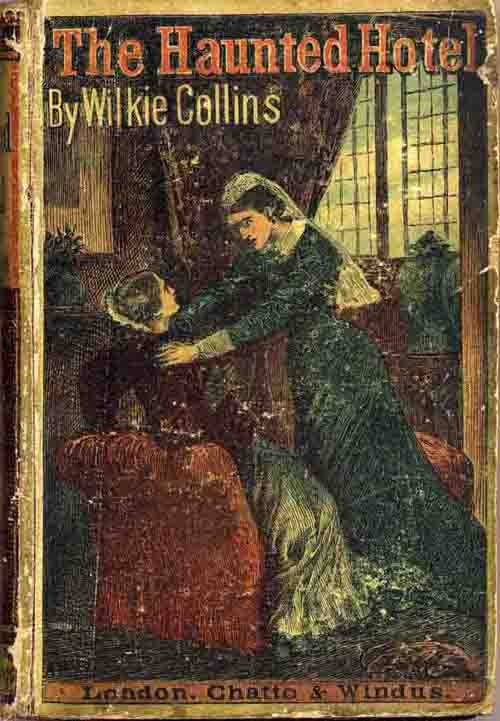 1884 Chatto & Windus yellowback
Wilkie Collins's ghost story was set in 1860 and published in book form with 'My Lady's Money'. It was dedicated to his friends Mr and Mrs Sebastian Schlesinger. Apart from supernatural elements, the story contains detective procedures and an insurance fraud relying on substituted identity that anticipates the later Blind Love (1890). The story is unusually horrific for Collins.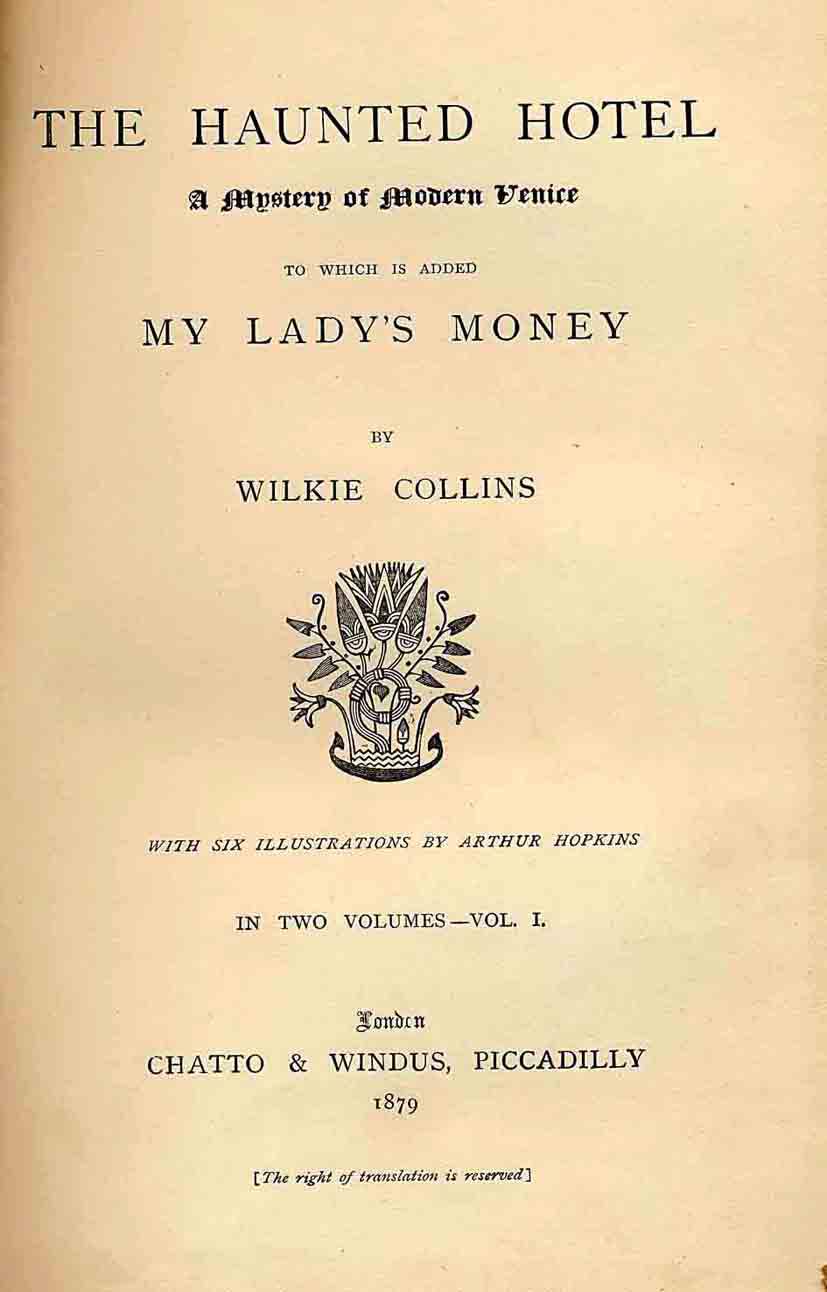 Title-page of 1879 first edition in two volumes
Lord Montbarry breaks off his engagement to Agnes Lockwood to marry the Countess Narona. The couple end a continental tour in Venice where they live reclusively in a large, decaying palace. They are accompanied by Baron Rivar, brother of the Countess, and by Ferrari, their courier.
Agnes learns from Montbarry's brother, Henry Westwick, that Mountbarry, whose life was insured for £10,000 in favour of his wife, has died of bronchitis. The courier has disappeared without trace although Ferrari's wife receives an anonymous note containing £1,000. The insurance companies carefully investigate but find no evidence that Mountbarry died other than by natural causes.
The palace is refurbished as a fashionable hotel, and the Westwick family arrange to meet there. Without realising that they are sleeping in the room where Montbarry died, three of his family separately experience insomnia, nightmares or nauseous smells. Agnes awakes in the night to see a disembodied head descending from the ceiling. A real head is discovered the next day decomposing in a secret compartment in the room above. Henry finds a set of gold false teeth which are later confirmed as Montbarry's by his dentist.
The Countess has also come to Venice, compelled by Destiny. She writes a ghost story in the form of a play which is in effect a confession of Montbarry's murder by herself and the Baron. Ferrari, dying of bronchitis, had agreed to assume the identity of Montbarry to perpetrate an insurance fraud in exchange for the £1,000 sent to his wife. Montbarry's body was disposed of by acid but the head hidden in the secret compartment. Agnes and Henry return to England and are married privately. They never discuss details of the confession.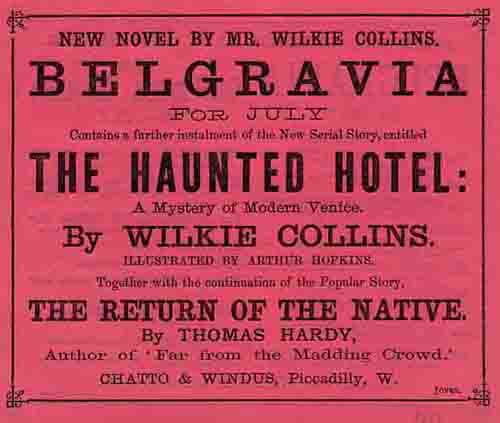 Belgravia advertisement for The Haunted Hotel
Serialisation
First published in Belgravia Magazine, June--November 1878; and in the Canadian Monthly, July--December 1878.
Bo
ok publication
First English edition
2 volumes, Chatto & Windus, London 1879 [1878]. Dark brown cloth, front covers blocked in white and lettered in gilt, spines lettered in gilt, black end-papers. Half-title in each volume. Six wood engravings by Arthur Hopkins, five in volume 1 and one in volume 2. Published in November 1878.
Vol I (xii) + 232 pp. 40pp publishers' catalogue dated October 1878 bound in at end.
Vol II (viii) + 260 pp
1 volume editions
Chatto & Windus 1879-1915. Sutton, Stroud 1990.
1st US edition
Seaside Library Pocket Edition, No 977, New York 1887.
First edition in book form
Rose-Belford, Toronto 1878.
Translations
Russian, St Petersburg 1878; Dutch, The Hague 1879; French, Paris 188-; German, Berlin 1892.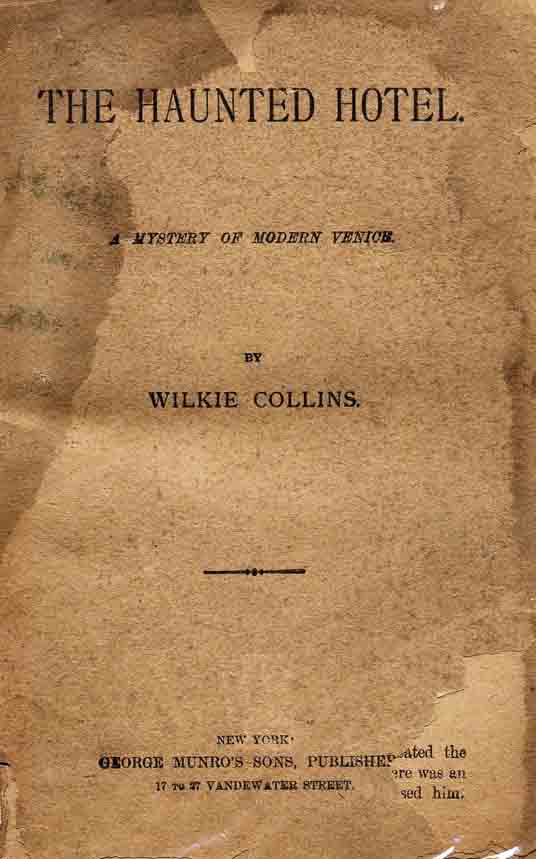 1903 New York edition by Munro
MY LADY'S MONEY: AN EPISODE IN THE LIFE OF A YOUNG LADY
'Suspect, in this case, the very last person on whom suspicion could possibly fall.'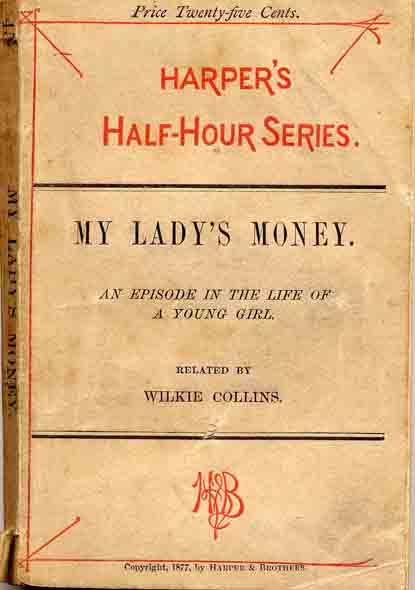 1878 Harper's US edition
Romantic novella originally published in the 1877 Christmas Number of the Illustrated London News; reprinted with The Haunted Hotel (1879). First book publication by Tauchnitz (1877) and Harpers (New York 1878). Although most of the story is concerned with the eventual marriage of the heroine, it adds to Collins's contributions to detective fiction. The 'Exhaustive System of Reasoning' and Old Sharon, the pipe-smoking detective who works out the problem by deduction, are both possible influences on Conan Doyle's Sherlock Holmes.
PLOT SUMMARY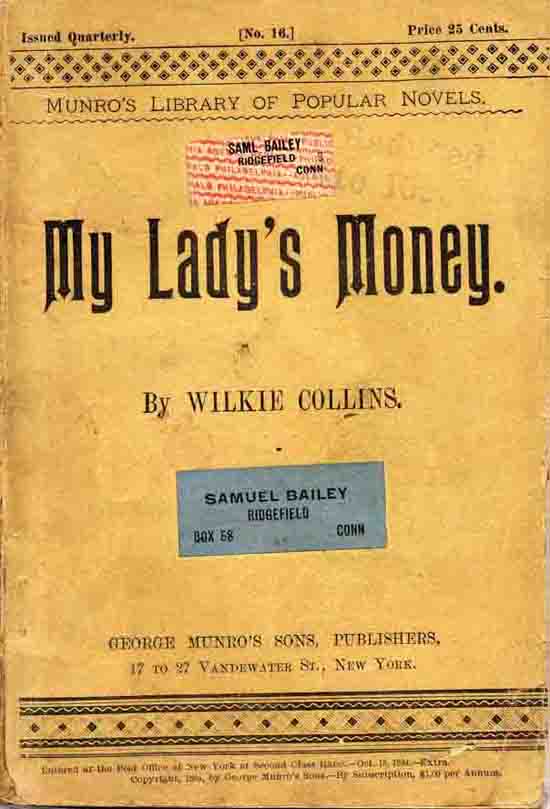 1894 New York edition by Munro in paper wrappers
A £500 bank note is stolen from Lady Lydiard. Present in the household are Isabel Miller, her adopted daughter; Felix Sweetsir, her nephew; Robert Moody, the steward; and Alfred Hardyman who has come to advise about Tommie, the ailing Scotch Terrier. Suspicion rests on Isabel who goes to stay with her aunt until her name is cleared. Moody, in love with Isabel, engages the slovenly detective, Old Sharon, to find the real thief. In the country at South Mordern, Isabel once again meets Hardyman who proposes marriage. She accepts on condition that Hardyman's family and friends will accept her. On the day of a celebratory luncheon they cancel because Felix, the real thief, has leaked the news that Isabel is suspected. In fact Felix stole the bank note to repay a gambling debt to Hardyman. The note is in Hardyman's missing pocket book, discovered by the gallant Tommie playing canine detective. Felix makes a lame excuse to Lady Lydiard before escaping to the continent. Isabel agrees to marry the faithful Moody.
[ Top of Page ] [ Main Works ] [ Front Page ]