'The blind love that had so cruelly misled her!'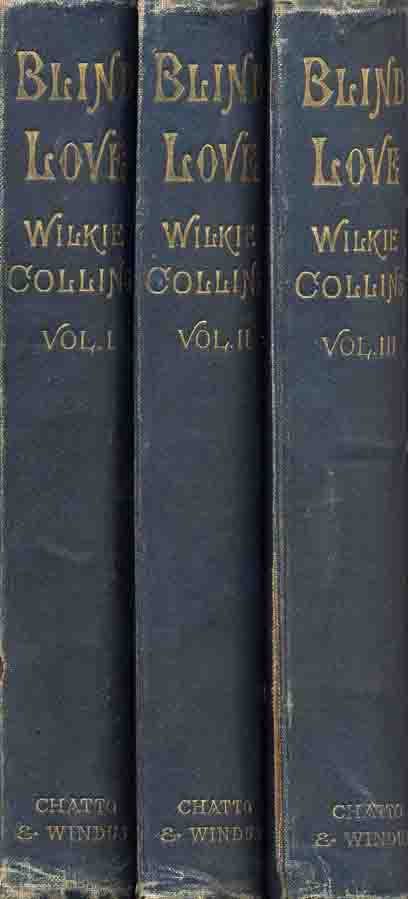 1890 Chatto & Windus first English edition

Wilkie Collins's last novel, finished after his death by Walter Besant. Collins planned the whole work and was able to complete the first forty-eight chapters (weekly parts 1-18, to 2 November 1889). Besant finished the remainder from Collins's comprehensive notes, and explained the circumstances in his preface. Blind Love was the third title for the story, originally known as 'Iris' and as late as May 1889 called 'The Lord Harry'.

The novel charts the moral decline of the central male character, Lord Harry Norland. His unstable personality veers from fervent idealism, which implicates him in a political murder, to suicidal despair; then to involvement in a sordid insurance fraud, also resulting in murder. He is finally killed by the Fenian terrorists whose cause he had supported. The virtuous Iris is blinded to his faults and insidiously corrupted by her love for him until she discovers the true enormity of his crime. Then 'The blind love fell from her - it was dead at last; but it left her bound to the man by a chain which nothing could break; she was in her right senses; she saw things as they were; but the knowledge came too late.' The insurance fraud is similar to that in The Haunted Hotel (1879) and the determined maid Fanny, eavesdropping on the plotting Vimpany and Lord Harry, recalls Marian Halcombe spying on Fosco and Glyde in The Woman in White (1860). Lord Harry's suicide attempt may have been suggested by the death of Collins's old friend Edward Ward, who cut his throat in a fit of depression in 1879.
Illustrations by A. Forestier
Iris Henley is at odds with her father because she refuses to marry Hugh Mountjoy, nephew of her Irish godfather. She is in love with the wild Lord Harry Norland, a friend of Hugh's brother, Arthur. Harry has joined the Invincibles, an Irish political secret society, which assassinates Arthur despite Harry's attempted warnings. Harry, saved from betrayal by Iris, vows revenge on his friend's murderer. Iris returns to England, breaking her journey to stay with Mrs Vimpany, wife of an unsuccessful, avaricious doctor. Mrs Vimpany has been secretly paid by Harry to keep a watch on Iris.
Iris quarrels once again with her father because she still refuses to marry Hugh. She engages a new maid, Fanny Mere, who becomes her friend and ally. Walking across Hampstead Heath, they find Lord Harry with his throat cut. He has attempted to commit suicide, leaving a note for Iris professing his love but owning that he has gambled away the last of his money. Harry's life is saved by Dr Vimpany who has separated from his wife and moved to Hampstead. Harry and Iris marry, and her father cuts her out of his will. Harry takes out life insurance for £15,000.
The couple start married life in a cottage near Paris where they are joined by Dr Vimpany. Both Harry and the doctor are in serious financial difficulties and in desperation Harry agrees to an insurance fraud. Vimpany searches the Paris hospitals for a patient with a strong resemblance to Harry. He finds the consumptive Oxbye who accepts the offer of a supposed new treatment in Harry's cottage. Iris has returned to London; but the resourceful Fanny remains behind as a nurse, spying on behalf of her mistress. Contrary to expectations, Oxbye makes a steady recovery and Fanny realises something is wrong when she is dismissed in favour of a new nurse who doesn't know the patient. She hides in the sick room and sees Vimpany poison Oxbye while Harry looks on. The dead Oxbye is photographed as evidence of Lord Harry's death, and buried in the local cemetery.
Iris returns to Paris and assumes Oxbye has died of natural causes. Against her better instincts she is drawn into the conspiracy to claim the insurance money as Harry's widow. They travel to Louvain in Belgium under a false name, causing the faithful Fanny to lose touch with her mistress. However, after speaking with the new nurse Fanny works out the truth, returns to London to write down all she knows of the affair and sends her testimony to Iris poste restante in Brussels.
Iris sees the family lawyer who settles the insurance claim on her behalf. She takes £5,000 which Harry had borrowed from her, pays off Vimpany with £2,000 and opens a bank account with the balance in the name of William Linville. Iris and Harry live an unhappy, reclusive existence in Louvain and are about to leave for America when Iris receives Fanny's testimony. Jolted back to reality, Iris realises that Oxbye was poisoned. She recovers her moral principles and leaves Harry for ever to make what redress she can. She repays the £5,000 to the insurance company which also accept Harry's proposal to return £8,000 if no proceedings are taken against his wife. The lawyers pay the remaining £2,000 which is reimbursed by Hugh Mountjoy. Iris accepts Hugh's offer of his remote cottage in Scotland.
Harry travels openly to Ireland, knowing that he will be killed by the Invincibles, and is shot by the same man who killed Arthur. Mrs Vimpany, now living with Iris and Fanny, receives a blackmail note from her husband, but he is drowned on the way to their cottage before he can carry out any threats. Iris finally agrees to marry Hugh Mountjoy.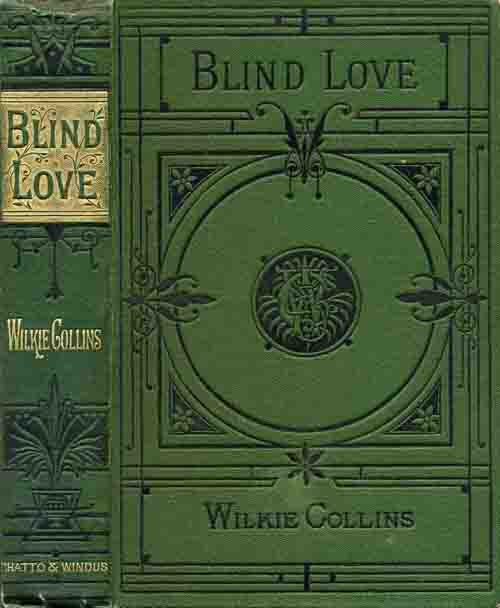 Chatto & Windus 1890 Piccadilly Novels
3 volumes, Chatto & Windus, London 1890. Blue cloth, covers blocked in black, spines lettered in gilt, grey and white floral end-papers. Half-title in each volume. Sixteen wood engravings by A. Forestier (7 in volume 1, 2 in volume 2, 7 in volume 3). Published in January 1890.
Vol II (viii) + 304 pp. 32 pp publishers' catalogue dated October 1889 bound in at end
Chatto & Windus 1890-1910. Dover, New York 1986; Sutton, Stroud 19 .
Appleton's Town and Country Library, New York 1890.
German, Stuttgart 1890.