'Do you feel an uncomfortable heat at the pit of your stomach...and a nasty thumping at the top of your head?...I call it the detective-fever.'
[ Plot Summary ] [ Publishing History ] [ Dramatic Version ]
[ Front Page ]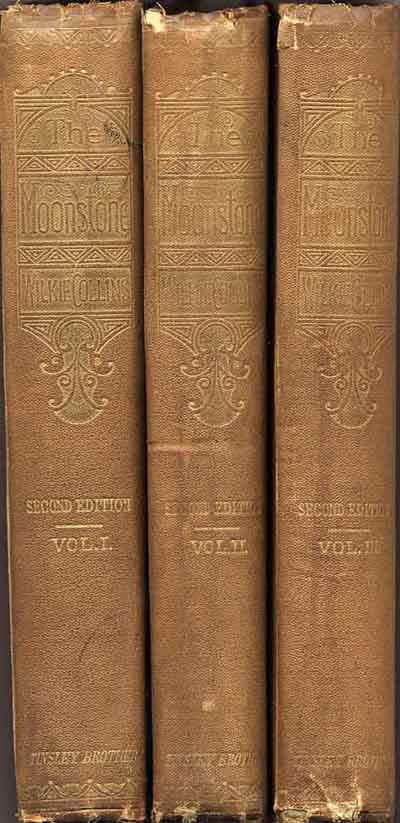 1868 second edition of The Moonstone
Published in 1868, one of the two books (with The Woman in White) for which Collins is most famous. The Moonstone was described by T. S. Eliot as 'the first and greatest of English detective novels' although priority is now usually given to The Notting Hill Mystery. The Moonstone has several archetypal features of modern detective fiction and created many of the ground rules for the genre. Several incidents in the story are taken from the real life Constance Kent Road Case and the plot is Collins at his intricate best.
Elwin quotes a contemporary critic that 'not a window is opened, a door shut, or a nose blown, but, depend upon it, the act will have something to do with the end of the book.' Geraldine Jewsbury didn't care for the 'sordid detective element' but admired the 'wonderful construction of the story' and 'the skill with which the secret is kept to the last.' The Moonstone was immensely successful as a serial in All the Year Round and Dickens originally liked the story. At a low point in his relationship with Collins, however, he wrote to Wills 'The construction is wearisome beyond endurance, and there is a vein of obstinate conceit in it that makes enemies of readers.'
Sergeant Cuff, the rose growing detective, from the 1875 Chatto & Windus edition
In addition to its success as a detective story, The Moonstone is notable for its enlightened social attitudes. Collins's respectful handling of the Indians and the religious motivation of their quest for the Moonstone is in marked contrast to the hatred and contempt exhibited by most English writers (including Dickens) for 'lesser breeds' after the Indian Mutiny. Collins is also ahead of his time in his sympathetic and serious characterisation of the reformed thief and servant Rosanna Spearman.
Much of The Moonstone was written while Collins was taking large quantities of opium to alleviate the agonies of gout. His own experiences of the drug are portrayed in the character of Ezra Jennings, the incurably ill addict who suffers relief from pain at the expense of hideous nightmares. Like The Woman in White, The Moonstone is told in the form of multiple narratives. The chief exponent is the House-steward, Gabriel Betteredge, who confirms 'I am forbidden to tell more in this narrative than I knew myself at the time. Or, to put it plainer, I am to keep strictly within the limits of my own experience.'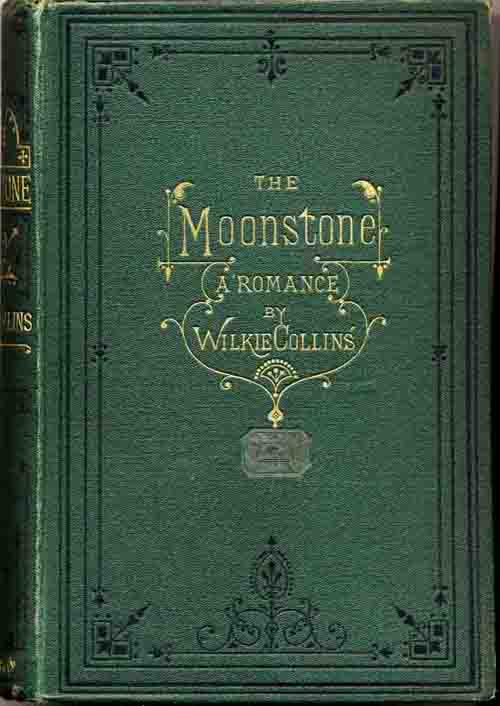 First one volume edition by Smith, Elder in 1871
The Moonstone is a magnificent yellow diamond 'large as a plover's egg'. It was looted at the siege of Seringapatam in southern India in 1799 by Colonel John Herncastle, who seized it from the forehead of a Hindu god. On his return to England he was ostracised by his family and society, and in revenge for a slight he leaves the diamond, said to carry a curse, to his niece Rachel Verinder. Rachel's cousin, Franklin Blake, is to deliver the diamond to the Verinder house near Frizinghall on the Yorkshire coast.
The Moonstone is presented to Rachel at a dinner party for her eighteenth birthday. The guests include Godfrey *Ablewhite, another cousin; Mr Candy, the family doctor; Mr Murthwaite, a celebrated traveller in India; and Drusilla Clack, an interfering evangelist. The party goes badly. Rachel and Franklin Blake have become fond of each other while decorating her sitting room door and Rachel had earlier refused a marriage proposal from Ablewhite. In addition, Blake quarrels with Mr Candy about the competence of doctors. Blake had been followed in London and Murthwaite identifies three Indians seen near the house as high caste Brahmins. Rachel places the diamond in her bedroom cabinet but the next morning it is missing.
The local police superintendent, Seegrave, is a bungling incompetent so Blake calls in the celebrated Sergeant Cuff of the detective police. He rules out the suspicious Indians but realises the importance of smeared paint on Rachel's sitting room door. The smear has been made by an article of dress, whose owner is almost certainly the thief. Rachel behaves inexplicably, obstructing the investigation and refusing to have anything more to do with Franklin Blake. Cuff concludes that she has stolen her own diamond assisted by Rosanna Spearman, a deformed housemaid fascinated by the local quicksand. Rosanna is a reformed thief who is acquainted with a dubious London moneylender, Septimus Luker. She is also in love with Franklin Blake and after acting strangely drowns herself in the Shivering Sand. Cuff is dismissed from the case by Lady Verinder but correctly predicts future developments.
In London, both Ablewhite and Luker are attacked and searched, Luker losing a receipt for a great valuable. Lady Verinder dies of a heart condition and Rachel reluctantly agrees to marry Ablewhite whose father has become her guardian. They move to Brighton where they are visited by Mr Bruff, the family solicitor. The engagement is broken off when he reveals that Ablewhite is in debt and is marrying Rachel for her money.
Blake returns from travels abroad but Rachel refuses to see him. Determined to restore her good opinion, he revisits Yorkshire where Rosanna Spearman's only friend, Limping Lucy, gives him a letter from the dead housemaid. This leads him to the Shivering Sand where Rosanna has hidden his nightgown, smeared with paint, with a confession that she concealed the nightgown and killed herself out of love. The confused Blake returns to London and contrives a meeting with Rachel at Mr Bruff's house in Hampstead. There she tells him that she knows he had financial problems and with her own eyes saw him take the diamond. Her own actions have been to protect his reputation.
Blake meets Mr Candy's assistant, Ezra Jennings, who saved Candy's life from a fever caught after the birthday dinner. Jennings had recorded Candy's delirium which revealed that Candy had secretly given Blake opium to prove his point in their argument. Blake therefore unknowingly 'stole' the diamond under the influence of the drug, in order to keep it safe. Jennings explains to Blake that if he takes opium again under similar conditions he may repeat his actions of the previous year and reveal where he placed the diamond. Blake agrees and the experiment is conducted with Mr Bruff as an observer. Blake takes a substitute gem but fails to reveal the Moonstone's hiding place. Rachel, really in love with him, is also present and has already forgiven him.
Bruff in the meantime has Luker's bank watched. The moneylender is observed passing the diamond to a sailor who is followed to a dockside inn. Later the same night he is murdered. Cuff, brought out of retirement by Blake, discovers that the sailor is Godfrey Ablewhite in disguise. He was the real thief and stole the gem to save himself from financial ruin. He has been killed by the Indians who have now recovered the diamond. In a religious ceremony witnessed in India by Murthwaite, the Brahmins return the diamond to the god of the moon.
| | |
| --- | --- |
| | |
| 1868 first US edition by Harper's | 1882 Lovell's Library edition in paper wrappers |
Serialisation
All the Year Round, 4 January--8 August 1868; and in Harper's Weekly, 4 January - 8 August 1868.
Book publication
First edition
3 volumes, Tinsley Brothers, 1868. Violet cloth, covers blocked in blind, spines lettered in gilt, cream end-papers. Half-title in each volume. Published in July 1868 in an edition of 1,500 copies.
Vol I viii + 316 pp
Vol II (vi) + 298 pp. Single leaf of publishers' advertisements usually inserted before half-title, but sometimes forms pp [299-300].
Vol III (iv) + 312 pp. Publishers' advertisements occupy pp [311-312] but sometimes inserted before half-title.
A second edition of 500 copies in 3 volumes was published from the same type. It is distinguished from the first by 'second edition' on the title-page and spine which has 'Tinsley Brothers' in italic. Both editions contain the misprint 'treachesrously' on p 129 of volume II.
1 volume editions
Smith Elder 1871 (revised text with new preface); Chatto & Windus 1875-1907 (with 9 illustrations by George du Maurier and F. A. Fraser).
Critical editions
World's Classics 1928 (introduced by T. S. Eliot); Everyman Library 1944 (introduced by D. L. Sayers); Penguin 1966 (edited by J. I. M. Stewart); Pan 1967 (introduced by A. Burgess); World's Classics 1982 (edited by A. Trodd); Everyman Library 1992 (introduction by C. Peters), Broadview Press 1999 (edited by S. Farmer).
1st US edition
Harper's: New York, 1868; reissued till 1900.

Translations
German (by Emil Lehmann), Berlin 1868; Russian, Moscow 1868; Italian, Milan 1870; French, Paris 1872; Irish Language, Dublin 1933.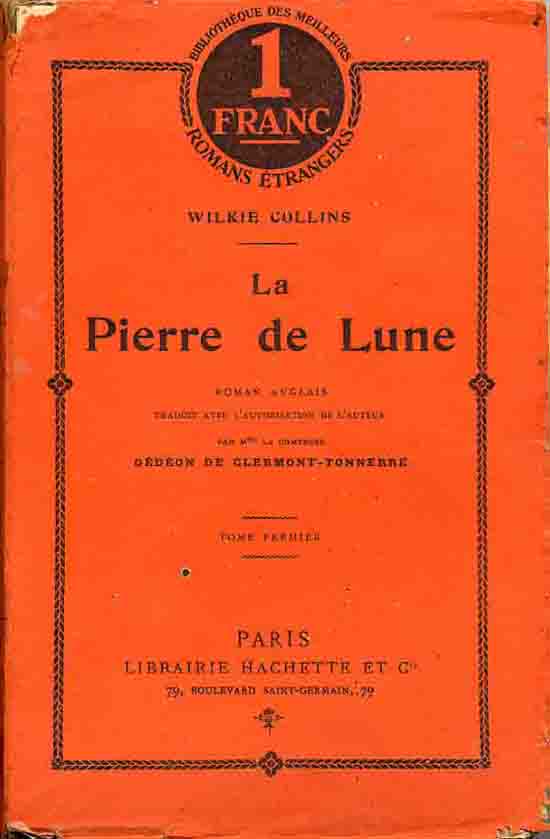 French translation published by Hachette
[ Top of Page ] [ Main Works ] [ Front Page ] [ Dramatic Version ]