[ Plot Summary ] [ Publishing History
]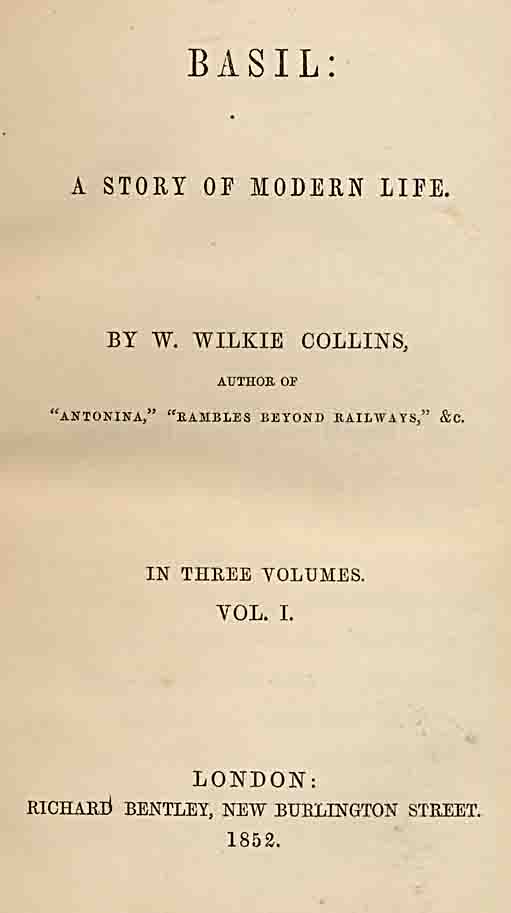 Title-page of the first edition in 1852
Basil was published in 1852 and dedicated to Charles Ward. It was Collins's second full-length work of fiction and first contemporary novel. In the introduction, he warns the reader that he has 'not hesitated to violate the conventionalities of sentimental fiction.' Basil is sometimes regarded as an early example of, if not the first, sensation novel. The author also declares his interest in drama, 'Believing that the Novel and the Play are twin-sisters in the family of Fiction.'
Collins claimed that the main event of the story was founded on a fact within his own knowledge. This could be the secret marriage, based on that of Edward and Henrietta Ward. It might possibly refer more closely to Collins, since throughout the book there are links to his own life. Basil, like Collins, has a snobbish father who misunderstands him, and chooses the Bar as a stepping stone to literature. He has travelled on the Continent to research locations for his partly written historical romance. Basil follows Margaret Sherwin to her home just north of Regent's Park, close to where Collins lived in Hanover Terrace during 1852. The later chapters are set in Cornwall with descriptive writing familiar to readers of Rambles Beyond Railways, published the year before.
Basil received a mixed reception. Collins's literary friends gave good reviews and Dickens wrote 'the story contains admirable writing' and 'I have made Basil's acquaintance with great gratification.' The Athenaeum, however, called Basil 'a tale of criminality, almost revolting from its domestic horrors' and the Westminster Review described it as 'absolutely disgusting'. Mrs Oliphant later called the novel 'a revolting Story' and the critics harked back to it even in their obituaries of Collins. The Daily News (24 September 1889) called it "a domestic story of a somewhat repulsive kind."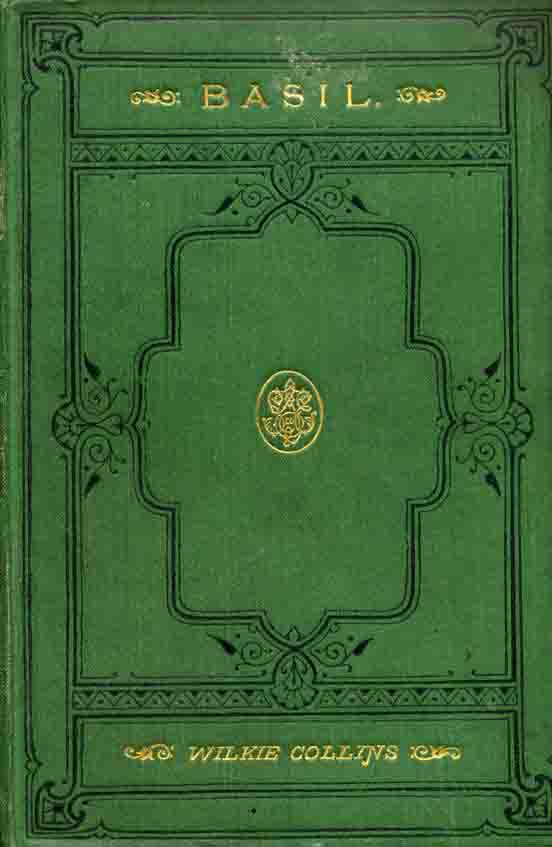 One volume Smith,Elder edition in 1871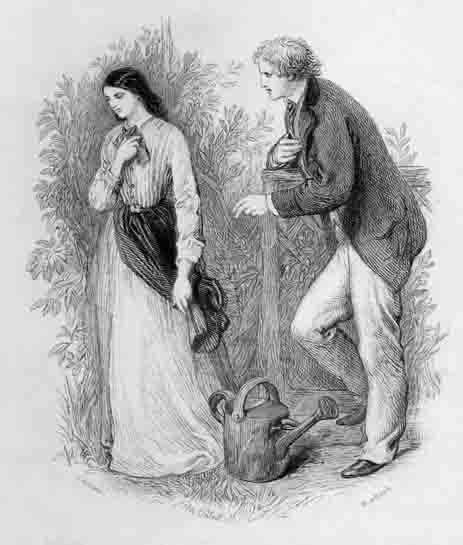 From the Sampson Low one volume edition in 1862
Basil is the younger son of a proud, stern father and comes of an ancient, noble family. He has a devoted younger sister, Clara, and a wild but good-natured older brother, Ralph. Travelling home, on impulse by omnibus, Basil falls in love at first sight with Margaret Sherwin, a linen-draper's daughter. He follows her home to the newly-built suburbs north of Regent's Park and, after contriving a meeting, asks her father for permission to marry; but because of his own father's certain opposition, the marriage should be kept secret. Mr Sherwin agrees on condition that the marriage takes place within the week but is not consummated for one year, since Margaret is only just seventeen. The delay will give Basil time to persuade his father to accept the marriage, and he cannot be forced to withdraw from it. The marriage duly takes place and Basil spends the next few months visiting Margaret every evening under the supervision of the mildly deranged Mrs Sherwin. He tries unsuccessfully to improve Margaret's mind and after overhearing two of her tantrums begins to doubt her character.
Sherwin's confidential clerk, Robert Mannion, returns from a business trip to France. Mannion's previous background is cloaked in secrecy and he has a strange power over the family. Nevertheless, he professes friendship and uses his influence for Basil's benefit. After a strained visit to his father's country house, Basil returns to find both Margaret and Mannion changed. On the evening before his year's 'probation' is completed, Basil is disconcerted that Margaret has gone to a party and will be escorted home by Mannion. He decides to collect her himself but sees her leave early with his rival. Basil follows them to an hotel and through a thin partition wall hears Mannion seduce Margaret. Basil waits and attacks Mannion, hurling him to the ground with such force that he is permanently disfigured and loses the sight of one eye. Basil collapses into delirium.
On recovering, he realises that Margaret is as much to blame as Mannion, despite threatening letters from Sherwin defending her. Basil confesses the ignoble marriage to his father who disowns him, tearing his name from the record in the family Bible. Mannion writes from hospital, revealing his secret past. His father was a gentleman who lived beyond his means. His patron was Basil's father, who refused to intervene to prevent his being hanged for forgery. Mannion had lived a miserable existence under assumed names until a friend arranged employment with Sherwin where he made himself indispensable. He had watched Margaret develop and despite her deceitful nature regarded her as his prize. Basil's marriage had compounded the family offence and Mannion resolved to take revenge by ruining his happiness and reputation.
Ralph returns from the Continent and visits Sherwin to buy his silence. He fortuitously obtains a letter written by Mannion which confirms Margaret's guilt. Margaret, visiting Mannion in hospital, contracts typhus from which she dies. Basil sees her when she is at the point of death, forgives her and leaves London for Cornwall. Mannion forces him to leave the fishing village where he is staying and confronts him on the cliff tops. While gloating over his revenge, Mannion falls to his death on the rocks below. The shock causes Basil to collapse. He is brought back to London by Ralph and Clara and reconciled with his father. After writing his history, Basil retires to the country to live quietly with Clara.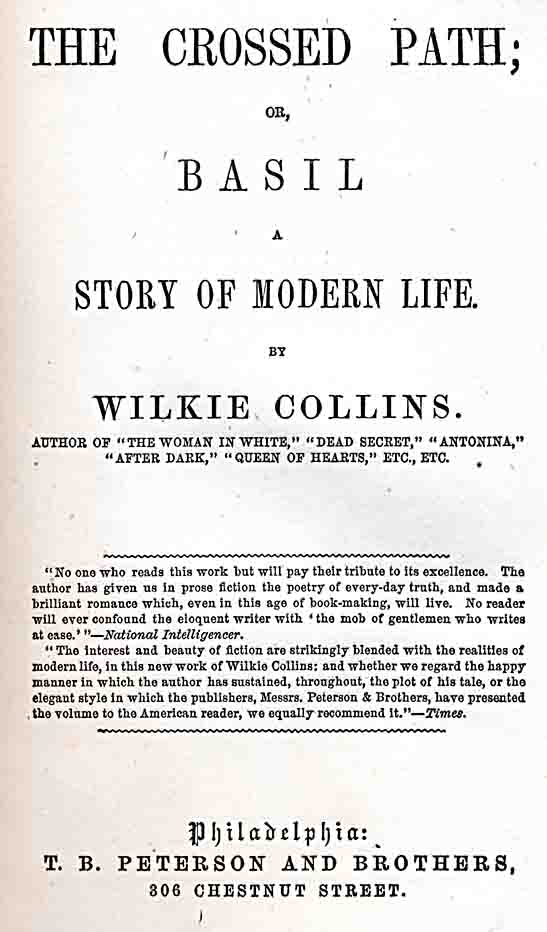 Title-page of the 1860 US Peterson edition
Serialisation
None
Book publication
First edition
3 Volumes, Richard Bentley, London 1852. Blue cloth, covers blocked in blind, spines lettered in gilt. Red-brown end-papers Half-title in volume I. Published 16 November 1852. Variant binding issued simultaneously in paper boards, half cloth, with white end-papers.
Vol I 300 pp (6-21 paged in Roman numerals; text on pp. (25)-300)
Vol II (ii) + 304 pp
Vol III (ii) + 302 pp
1 volume editions
Richard Bentley, London 1854; James Blackwood, London 1856; Sampson Low 1862; Smith, Elder 1865-1872, Chatto & Windus 1875-1910. Dover, New York 1980; World's Classics 1990 (Critical edition, edited by D. Goldman).
US editions
Appleton, New York 1853; Peterson, Philadelphia [1860] (as The Crossed Path); Seaside Library, New York: 1880.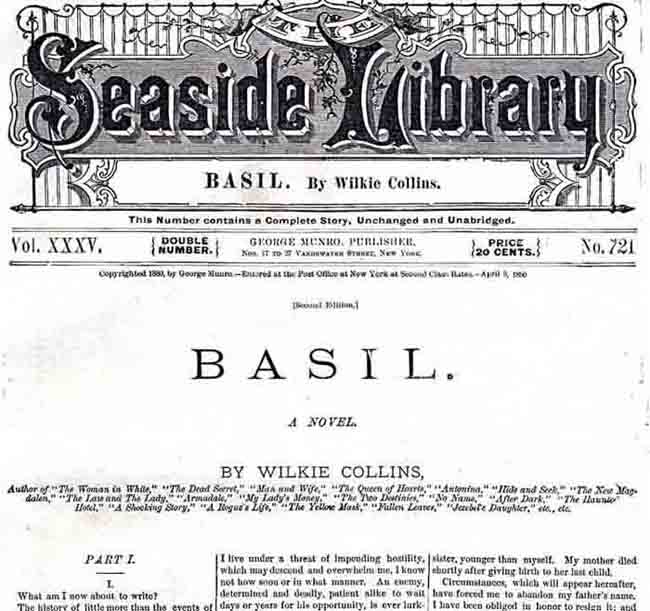 Pirated edition in Munro's Seaside Library of 1880
[Top of Page] [Back to Main Works] [Front Page]