WILKIE COLLINS IN CUMBERLAND
[ Front Page ]
ALLONBY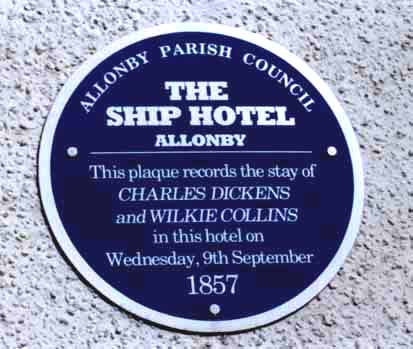 Plaque commemorating the stay of Wilkie Collins and Charles Dickens
Allonby is a coastal town in Cumberland on the Solway Firth, visited by Collins and Dickens on their walking tour of Cumberland in 1857. They had left London by train for Carlisle on 7 September, travelling another fourteen miles to the village of Hesketh Newmarket. Here they stayed at the Queen's Head close to Carrock Fell. Dickens insisted on climbing the mountain despite bad weather; the compass broke and they became hopelessly lost in thick mist.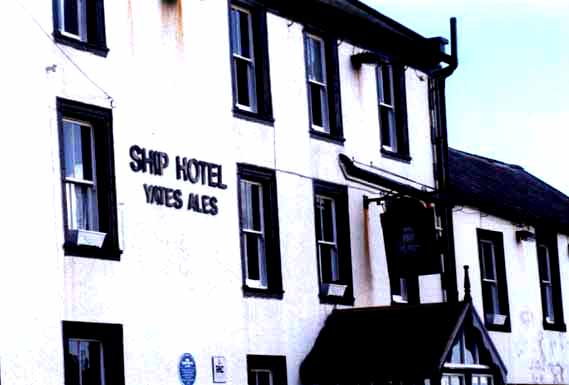 The reluctant Wilkie badly sprained his ankle on the descent so they travelled to nearby Wigton, where Collins saw a doctor, and then on to Allonby. Arriving in time for lunch on 9 September, they stopped for two nights at The Ship - described by Dickens as 'a capital little homely inn looking out upon the sea ... a clean nice place in a rough wild country'. The landlord was Benjamin Partridge whose immensely fat wife was 'very obliging and comfortable.'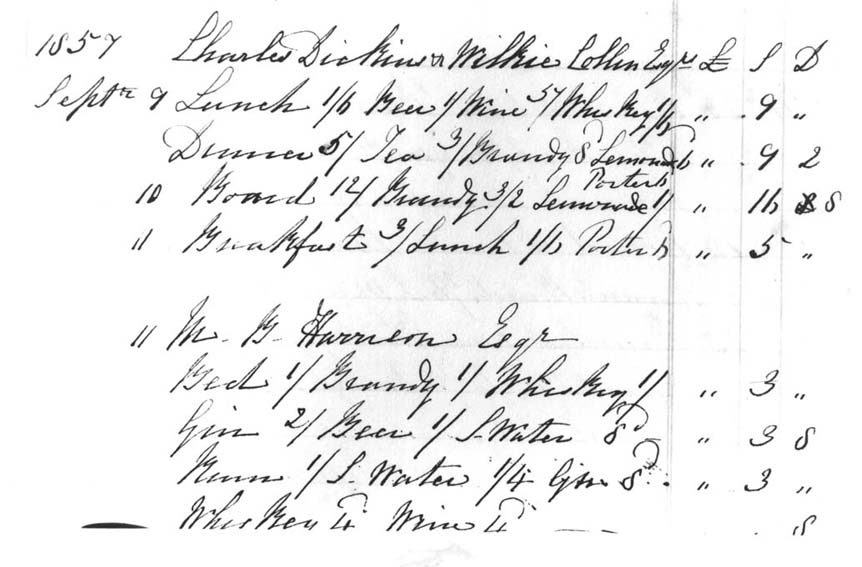 Innkeeper's book for 9- 11 September 1857
The innkeeper's book for 9 - 11 September records that 'Charles Dickens & Wilkie Collins Esqrs' partook of Lunch with beer and wine; and Dinner with tea and Brandy. During their stay, they also had lemonade and porter (a dark brown malt beer).
It is in Allonby, in 'The Lazy Tour of Two Idle Apprentices', that Collins as Thomas Idle engages in autobiographical reflections. The Ship Inn still exists and modern day travellers can visit or even stay the night.
The nearby Ewanrigg Hall on the outskirts of Maryport was possibly used in The Woman in White as the setting for Limmeridge House. Closely following the Collins-Dickens route in 'The Lazy Tour', Walter Hartright writes
"My travelling instructions directed me to go to Carlisle, and then to diverge by a branch railway which ran in the direction of the coast..... When I rose the next morning and drew up my blind, the sea opened before me joyously under the broad August sunlight, and the distant coast of Scotland fringed the horizon with its lines of melting blue."
Ewanrigg Hall was the home of the Christian family and Fletcher Christian of Mutiny on the Bounty fame was born there in 1764. The house was demolished in 1903.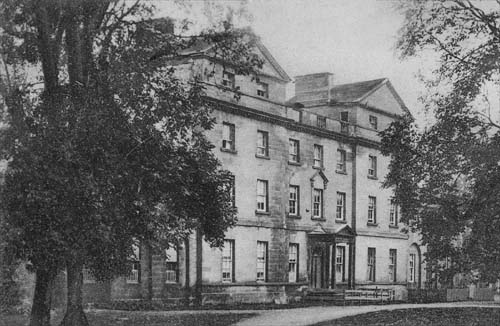 Ewanrigg Hall
(photograph courtesy Matthew Beckett and the Lost Heritage website)
[ Front Page ]