THE LAZY TOUR OF TWO IDLE APPRENTICES; NO THOROUGHFARE; THE PERILS OF CERTAIN ENGLISH PRISONERS
By Charles Dickens and Wilkie Collins.
[Lazy Tour] [No Thoroughfare] [Perils]
| | |
| --- | --- |
| | |
| 1890 first edition | Crown edition in 1890 |
THE LAZY TOUR OF TWO IDLE APPRENTICES
Humorous narrative of Collins's and Dickens's walking tour of Cumberland during September 1857. Written in collaboration, it was originally published in Household Words, 3-31 October 1857; and Harper's Weekly, 31 October--28 November 1857. Collected in book form in 1890.
Collins assumed the identity of Thomas Idle (a born-and-bred idler) and Dickens that of Francis Goodchild (laboriously idle). Collins wrote three main parts. In the first, he describes his sprained ankle after a reluctant ascent of Carrock Fell in the mist. The second, the story of Dr Lorn, was later republished as 'The Dead Hand'. The remaining section, in which Thomas Idle, stretched out injured on a sofa in Allonby, reflects that all the great disasters of his life have been caused by being deluded into activity, consists of reminiscences, and is loosely based on Collins's own life. At school, after foolishly winning a prize, he was rejected by the other idle boys as a traitor and by the industrious boys as a a dangerous interloper. The only time he played cricket he caught a fever from the unaccustomed perspiration. Mistakenly studying for the Bar, where he was expected to know nothing whatever about the law, he became the target of a persistent legal bore.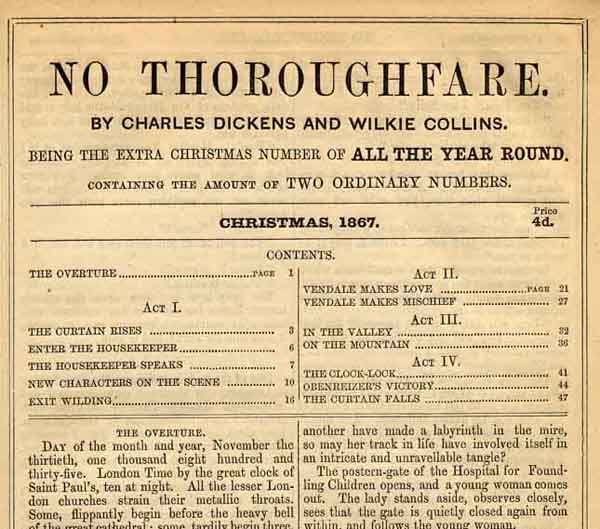 1867 first publication in All the Year Round
Mystery story written by Collins in collaboration with Dickens. Originally published in the Extra Christmas Number of All the Year Round, 12 December 1867 and in Every Saturday, Boston, December 1867. Written with a stage adaptation in mind, the story is divided into an 'Overture' and three 'Acts'. The dramatisation followed publication almost immediately, opening at the Adelphi Theatre on 26 December 1867. The story was later republished in The Lazy Tour of Two Idle Apprentices (1890); it was translated into Dutch (1868), Norwegian (1868) Russian (1868) and Spanish [1890]. The route in Act III (Strasbourg, Lausanne, Geneva and the Simplon Pass to Milan) follows that of Collins, Dickens and Augustus Egg during their European tour in October 1853. (For authorship of the various parts see Oppenlander's Dickens's 'All the Year Round', New York 1984).
The 'Overture' is set in the London Foundling Hospital. In 1835 a woman who has left her child there begs to know the new name he has been given, and is told it is Walter Wilding. In 1847 she returns to adopt the boy called Walter Wilding, whom she believes to be her son.
Wilding grows up to be a successful wine merchant and in 1861 takes a new partner, George Vendale. On his first day Vendale visits Jules Obenreizer, the English agent for the firm's Swiss champagne supplier Defresniers. He meets Obenreizer's niece, Marguerite, and they fall in love despite Obenreizer's attempts to prevent their relationship. Wilding, meanwhile, learns from his new housekeeper, once a nurse in the Foundling Hospital, that he was not his supposed mother's son. That boy had been adopted and taken abroad, and a second boy given the same name. He determines to find the rightful owner of his fortune. All his investigations end in 'no thoroughfare' and he dies shortly after.
Vendale now learns that a remittance to Defresniers has been stolen and he must deliver personally a forged receipt so that the criminal's handwriting can be identified. The thief is Obenreizer who volunteers to travel to Switzerland with Vendale, hoping that he can recover the evidence. While they attempt to cross the Simplon Pass in a blizzard, Obenreizer confesses his guilt. He has drugged Vendale and intends to leave him to die on the mountain. Marguerite, however, has followed with Joey Ladle, the Head Cellarman, and rescues Vendale from the edge of a precipice. They later confront Obenreizer who maliciously reveals that Vendale is illegitimate. He is, in fact, the true heir to Wilding's fortune. Vendale marries Marguerite and Obenreizer perishes in an avalanche.
PERILS OF CERTAIN ENGLISH PRISONERS, THE: AND THEIR TREASURE IN WOMEN, CHILDREN, AND SILVER AND JEWELS.
Story written in collaboration with Dickens, originally published as the Extra Christmas Number of Household Words, December 1857. Reprinted in The Lazy Tour of Two Idle Apprentices and Other Stories (1890).
Dickens wanted a story of heroism by civilians, relevant to the Indian Mutiny. Collins, asked to provide a suitable setting and the outline of the plot, came up with a South American island called Silver-Store where, in 1744, a small colony of English is betrayed to local pirates in search of treasure. The English bravely escape from imprisonment in a Mayan temple, the pirates are captured at sea and the silver recovered. Collins wrote the whole of the second, longest chapter, 'The Prison in the Woods', which describes the march through the jungle and an escape by raft.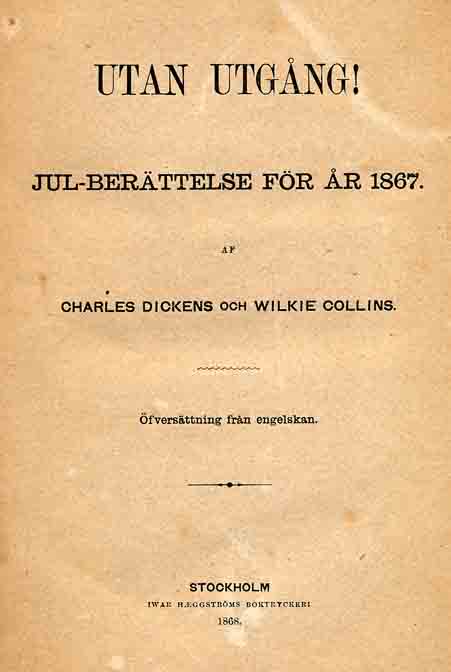 Swedish edition of No Thoroughfare
Serialisation
See individual stories above
Book publication
First collected edition
1 volume, Chapman & Hall, London 1890. Dark green cloth, covers blocked in black, spine lettered in gilt, black end-papers. Half-title. Eight full-page illustrations by Arthur Layard. viii + 328 pp. Variant binding in red-brown cloth, forms part of the Crown Edition of Dickens works in 17 volumes. Later editions in 1895 have the photolithographs redrawn.
[ Top of Page ] [ Main Works ] [ Front Page ]