NO THOROUGHFARE
[ Book Publication ] [ Front Page ]
Collins wrote and produced a stage adaptation of No Thoroughfare in 1867 during Dickens's absence in America. The original story was written in collaboration with Dickens and published in December 1867 as the extra Christmas number of All the Year Round and in Every Saturday, Boston.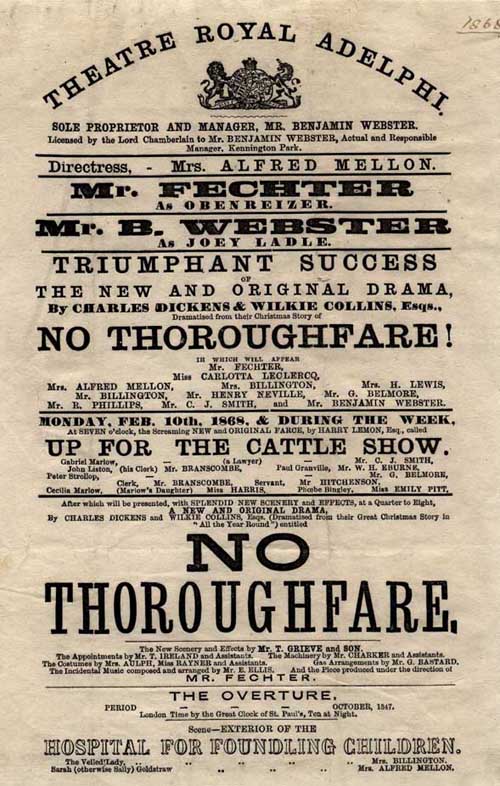 No Thoroughfare was first performed on 26 December 1867 and successfully ran for 200 performances at the Adelphi Theatre. The play starred Charles Fechter as Obenreizer, Benjamin Webster as head cellarman Joey Ladle, John Billington as Wilding and Carlotta Leclercq as Marguerite. Henry Neville played Vendale, repeating the part in a later production at the Olympic in November 1876. Fechter and Dickens wrote a different version in French called L'abime, first produced at the Vaudeville in Paris on 2 June 1868. There were various pirated versions in the US including one at the Park Theatre, Brooklyn, 6 January 1868. [ Cast list ]
| | |
| --- | --- |
| | |
| John Billington who played Wilding | Henry Neville who played Vendale |
No Thoroughfare: a Drama in Five Acts was published at the Office of All the Year Round in 1867 (90 pp, buff paper wrappers). There were three other editions: De Witt's Acting Plays (no 14), New York [nd]; and two by Louis Lequel, Identity: or No Thoroughfare, French's Standard Drama (no 348), New York and London 1867; and No Thoroughfare: a Drama in Four Acts, Dicks Standard Plays (no 1052), London [nd].
[ Back to Plays ] [ Front Page ]