THE PLAYS OF WILKIE COLLINS
[ Front Page ] [ Works of Wilkie Collins ]
[ Actors and Actresses in Wilkie Collins's plays ]
[ Cast lists for Wilkie Collins's plays ]
Scene from The Woman in White
In addition to his works of fiction, Wilkie Collins wrote the following plays: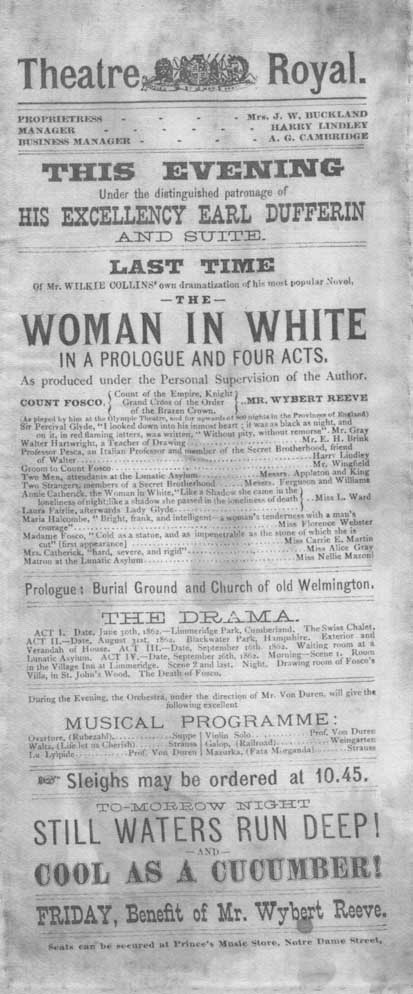 A Court Duel (adapted from the French by Collins) (1850)

(1855) (1857) (1858) (1860) (with Dickens) (1861) (1863 and 1870) e (1866) (with Dickens) (1867) (with Charles Fechter) (1869) (1870) (1873) (by E. J. Bramwell) (1877) (1875) (1877) (1883)

The Evil Genius (1885)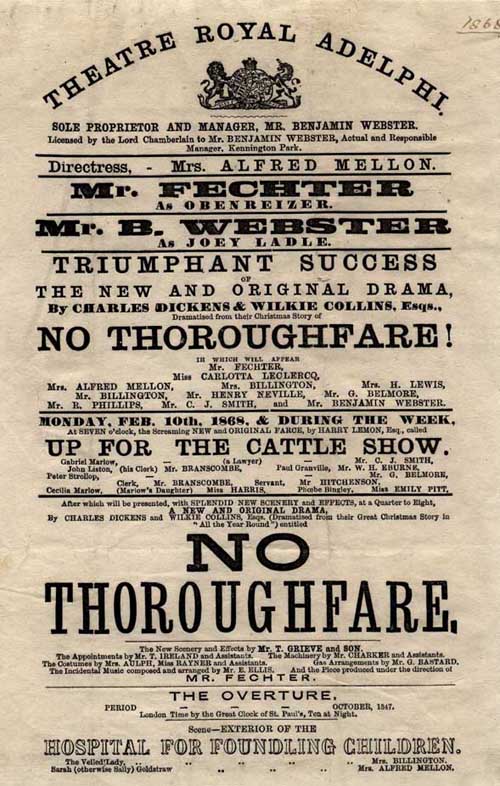 Drama was always one of Collins's main interests, an enthusiasm shared with Charles Dickens. He participated in amateur theatricals from the 1840s and was an eager theatre-goer both in London and when travelling abroad. He regarded fiction and drama as inextricably linked, as he explained early in his career in the introduction to Basil (1852)
'Believing that the Novel and the Play are twin-sisters in the family of Fiction; that the one is a drama narrated, as the other is a drama acted; and that all the strong and deep emotions which the Play-writer is privileged to excite, the Novel-writer is privileged to excite also, I have not thought it either politic or necessary, while adhering to realities, to adhere to common-place, everyday realities.'

This belief is shown in the dramatic structure of many of Collins's novels. Some such as No Name (1863) and The Black Robe (1881) are laid out in 'Scenes'. The New Magdalen (1873) was written simultaneously as a book and a play: the descriptions in the book of Lady Roy's house and the movement of characters through the various rooms apply equally well as stage directions. The Evil Genius (1886) was also written simultaneously as novel and play, though it was never produced on the stage. Man and Wife (1870) was conceived as a play but appeared first in book form, while the novel, Jezebel's Daughter (1880), took its origin from the play The Red Vial (1858).

Despite his enthusiasm, Collins was never wholly successful as a dramatist and for some plays (e.g. No Name) he had difficulty in securing a theatre. As a playwright he is now best remembered for The Frozen Deep (1857) written for Dickens's amateur company. In the professional theatre, his greatest successes were The New Magdalen, Man and Wife and No Thoroughfare. Others such as The Red Vial and Rank and Riches were outright failures.
[ Actors and Actresses in Wilkie Collins's plays ]
[ Cast lists for Wilkie Collins's plays ]
[ Front Page ] [ Works of Wilkie Collins ]