Antonina was Collins's first published novel, dedicated to Lady Chantrey, wife of William Collins's friend, the sculptor Sir Francis Legatt Chantrey (1791-1841). Antonina was begun in April 1846, delayed for a year during the writing of The Memoirs of William Collins, R.A., and published in 1850. It is written in a laborious, deliberately florid style using detail from Gibbon's Decline and Fall of the Roman Empire and modelled on Bulwer-Lytton's The Last Days of Pompeii (1834). The plot is challenging, with many passages reading like a cross between a guide book to ancient Rome (based on Collins's visit in 1837) and a description of his father's paintings. Other sections, particularly the more horrific and violent, are vividly written and there are already indications of Collins's interest in physical handicap and abnormal states of mind, and his dislike of all forms of extremism. The conflict between the imaginative and artistic Antonina and her stern father is reworked to better effect in Collins's next novel, Basil. Antonina received good reviews, sold consistently and was reprinted throughout Collins's lifetime and well into the twentieth century.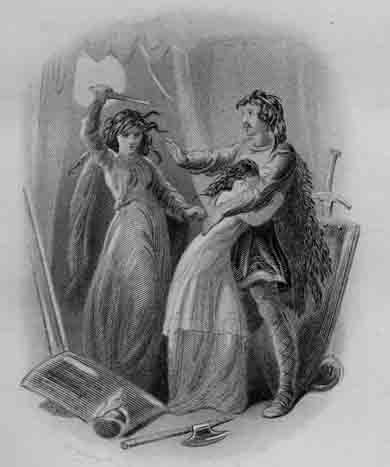 Illustration by John Gilbert from the first one volume edition in 1861
The plot revolves around two separate but related struggles. That of the old pagan and new Christian religions, seen as equally destructive, embodied in the opposing characters of Ulpius and Numerian; and that of the strong figure of the Goth, Goisvintha, (modelled on Norna in Scott's The Pirate) seeking revenge against the weak heroine, Antonina.
In the Rome of 408 AD, the young Antonina lives with her father Numerian, zealous in his aims to restore the Christian faith to its former ideals. Numerian's steward, Ulpius, brought up in the old religion, secretly lives only to restore the forbidden gods of pagan sacrifice. Vetranio, their wealthy neighbour, has designs on the innocent Antonina. When they are surprised by Numerian in an apparently compromising situation, Antonina flees outside the city walls just before Rome is blockaded by the encircling army of the Goths.
Antonina is captured by the chieftain, Hermanric, who falls in love with her. His sister, Goisvintha, was the sole survivor of a Roman massacre in which her children perished and has vowed revenge on Rome and its people. She attempts to kill Antonina but is prevented by Hermanric who allows Antonina to escape. During the weeks of the siege, she lives in a deserted farmhouse, visited nightly by Hermanric. Goisvintha betrays her brother to the Huns who kill him, while Antonina escapes for a second time.
Ulpius, meanwhile, has discovered a breach in the city wall and attempts to betray Rome to Alaric in exchange for his destruction of the Christian religion. Alaric is interested only in humbling his enemies into surrender and seizing a large tribute of gold. Returning towards the city, Ulpius discovers Antonina and accompanies her to Rome where she finds her overjoyed but starving father. Antonina begs the last morsels of food from Vetranio at a macabre and suicidal 'Banquet of Famine', preventing him from making a funeral pyre of his palace.
PUBLISHING HISTORY FOR ANTONINA
20th Century Chatto & Windus
3 Volumes, Richard Bentley, London 1850. Cream embossed cloth, spines lettered in gilt, yellow end-papers printed with publishers' advertisements. Half-title in each volume. Published 27 February 1850.
Vol II [viii] + 324 pp. Publishers' advertisements occupy pp [323-324]
Vol III [viii] + 340 pp. Publishers' advertisements occupy pp [339-340]
[May] 1850, Second edition (Revised with revised preface); 1853, using first edition sheets.
Sampson Low (new preface and illustrated title by John Gilbert) 1861-1865; Smith, Elder 1865-1872; Chatto & Windus (with 8 illustrations by Alfred Concanen) 1875-1908.
Harpers, New York 1850.
German, Leipzig 1850.