WILKIE COLLINS IN RAMSGATE AND BROADSTAIRS
RAMSGATE
Ramsgate is a seaside resort in Kent which Collins regularly visited with Caroline Graves from the early 1870s. Both Collins and his doctor, Frank Beard, were convinced that the sea breezes were good for his health and gave relief from the oppressive London heat in summer. He joined the local yacht club with Edward Pigott who confided to Beard he thought Collins's destiny was to live in Ramsgate. As a child, Wilkie had first stayed there with his father and family in 1833 and Ramsgate became the setting for scenes in later works including Poor Miss Finch (1872), The Law and the Lady (1875) and The Fallen Leaves (1879). One scene in Rank and Riches is set in the seaside town of Lightcliff which may well be based on Ramsgate.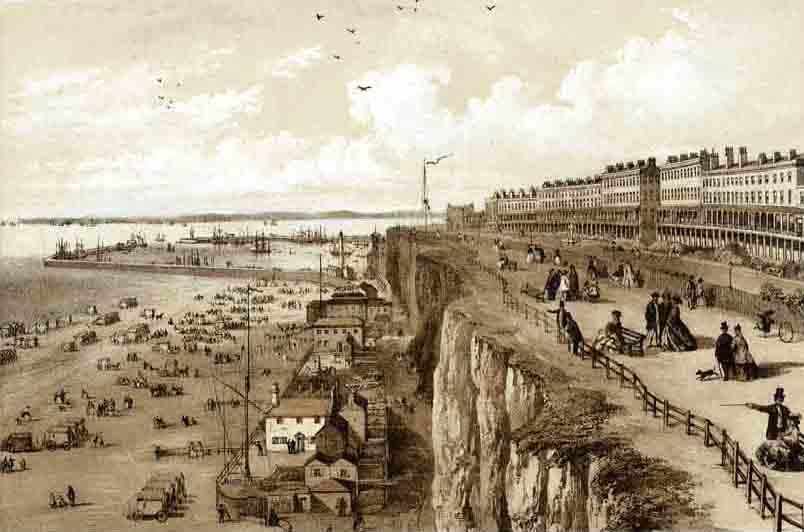 Wellington Crescent and Sands in Victorian times. (Image courtesy Kent County Library)
Collins routinely stayed at 14 Nelson Crescent under the care of landlady, Rebecca Shriver. When his morganatic family was old enough, he was joined by Martha Rudd and his children. To observe the proprieties, they stayed in the equally impressive terrace at 27 Wellington Crescent where Collins discreetly visited them as Mr William Dawson.
On 22 January 2011, local author Jane Wenham-Jones unveiled a plaque at 14 Nelson Crescent to commemorate Collins's frequent stays in Ramsgate at this address.
| | |
| --- | --- |
| | |
| Commemorative plaque | Nelson Crescent in January 2011 |
BROADSTAIRS
Broadstairs is another seaside resort in Kent about five miles from Ramsgate. Collins first stayed there in July and August 1858, using it as a base to sail to Dunkirk with Henry Bullar and Edward Pigott. The following summer he rented the isolated Church Hill Cottage for six weeks while writing The Woman in White and again visited Broadstairs in July 1861. From July to October 1862 Collins rented the more prestigious Fort House during the serialisation of No Name. Broadstairs gave him ample scope to pursue his interest in sailing. Charles Collins and other friends were frequent visitors.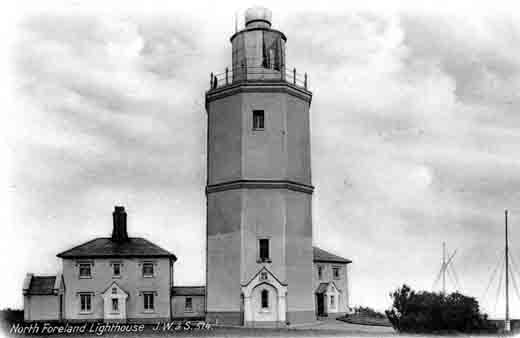 North Foreland Lighthouse at Broadstairs which inspired the naming of The Woman in White
[ Collins's Main Homes ] [ Front Page ]