'The actions of human beings are not invariably governed by the laws of pure reason.'
[ Plot Summary ] [ Publishing History ]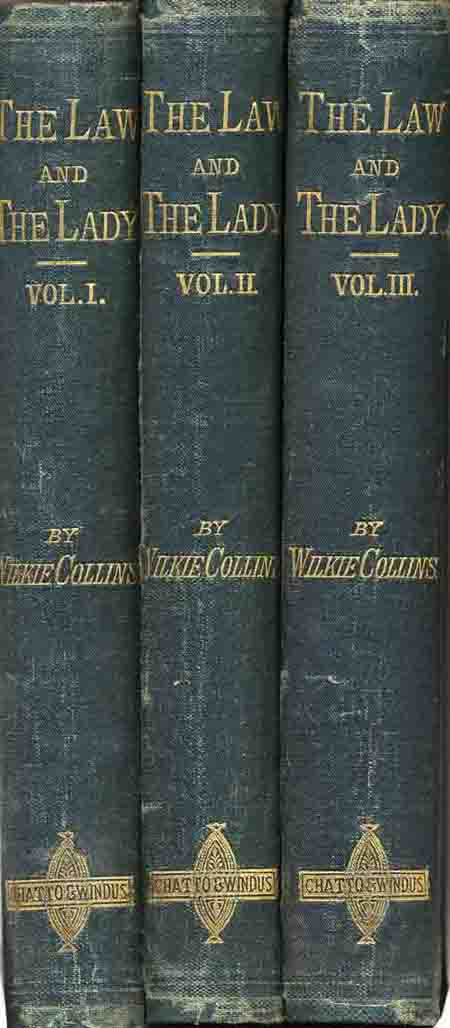 1875 First English edition By Chatto & Windus
Detective story dedicated to Regnier, attacking the Scottish Not Proven verdict. Early example of a female sleuth. The heroine is one of Collins's determined and resourceful women characters, who retains the initiative throughout. In the bizarre character of Miserrimus Dexter Collins created one of his most powerful examples of mental disturbance, here combined with physical handicap. The novel contains several features of modern detective fiction, including the amateur succeeding where the professionals failed, a court-room cross-examination influenced by the Madeleine Smith trial, the use of an alibi, and the sequential elimination of the various suspects.
| | |
| --- | --- |
| | |
| 1875 Chatto & Windus Piccadilly Novels | 1913 late Chatto & Windus yellowback |
Valeria and Eustace Woodville begin their marriage inauspiciously, when, on honeymoon at Ramsgate, Valeria discovers her husband's true name is Macallan. As Eustace refuses to explain she confronts his mother who although sympathetic will also not answer her questions. Valeria becomes 'positively resolved...to discover the secret which the mother and son were hiding.'
On returning to London, Valeria establishes that her marriage is legally valid. She also visits Eustace's closest friend, Major Fitz-David. He knows the secret but is on his word of honour not to help its discovery. The Major, a modern Don Juan, is sympathetic to Valeria's position and tacitly allows her to search his rooms. She finds a trial report revealing that Eustace was accused of poisoning his first wife Sarah at Gleninch, his Mid-Lothian house, and is tainted with the Scotch verdict of Not Proven. Valeria is now determined to find the proof of his innocence. Eustace, however, weakly runs away from his wife, going abroad alone.
The medical evidence of poisoning at the trial was conclusive. Eustace admitted buying arsenic but claimed that it was at his wife's request, to improve her complexion. The prosecution alleged the marriage was unhappy and that Eustace was really in love with his cousin, Helena Beauly.
Valeria meets another of Eustace's friends, the eccentric Miserrimus Dexter who gave evidence for him at the trial. Dexter was born without legs and gets around either in a wheel chair or by hopping on his hands. His mood changes violently, from mild and melancholy to the brink of madness, and he is cared for by his simple-minded but devoted cousin Ariel. When Valeria tells Dexter that she suspects Helena Beauly he immediately agrees, recounting an incriminating conversation he overheard Helena having with her maid. Helena, however, has a perfect alibi. She had attended a somewhat disreputable masked ball while her maid took her place in the house.
Valeria next travels to Edinburgh to meet Mr Playmore, Eustace's lawyer at the trial. Playmore is convinced that Dexter is the villain since he is known to have taken the key to an intercommunicating bedroom door before the night of the poisoning. Valeria revisits Dexter who in a convoluted way begins to tell the story of the fatal events. He mentions a letter torn into pieces but then lapses into permanent madness. He is confined to an asylum, accompanied by Ariel who refuses to leave him.
The torn letter is eventually found in a dust-heap behind the house at Gleninch and painstakingly put together by experts. It is a suicide note to Eustace from Sarah, exonerating all concerned. She had rejected a previous marriage proposal from Dexter who was infatuated with her. When Dexter showed her Eustace's diary, which revealed he had never loved her - he only married her out of gallantry when she compromised herself by visiting him alone at his bachelor lodgings - Sarah took the arsenic. Using the missing key, Dexter stole the letter and once he was sure that Eustace would not be convicted of murder tore it to pieces.
Eustace has meanwhile been injured while heroically fighting for the Brotherhood in Spain. On his recovery, he agrees with Valeria not to read the reconstructed letter which remains sealed in its envelope. It will await the next generation, their newly born son.
| | |
| --- | --- |
| | |
| 1875 Harper's first US edition | 1875 Hunter, Rose first Canadian edition |
Serialisation

The Graphic, 26 September 1874--13 March 1875; Harper's Weekly, 10 October 1874--27 March 1875.

Book Publication

First edition

3 Volumes, Chatto & Windus, London 1875. Dark-green cloth, covers blocked in blind, spines lettered in gilt, cream end-papers. No half-titles. Published in February 1875.

Vol I (viii) + 248 pp. Advertisement of Collins's previous works occupies p (247). 40 pp publishers' catalogue dated December 1874 bound in at end.

Vol II iv + 272 pp. Advertisement of Collins's previous works occupies p (271).

Vol III iv + 344 pp. Advertisement of Collins's previous works occupies p (343).

1 volume editions

Chatto & Windus 1876-1913 (with 7 illustrations by S. L. Fildes, S. Hall and F. W. Lawson). World's Classics 1992 (critical edition, edited by J. Bourne Taylor).

1st US edition

Harpers, New York 1875.

Translations

Dutch, The Hague 1875; French, Paris 1875; German, Berlin 1875; Russian, Moscow 1875.

[ Top of Page ] [ Main Works ] [ Front Page ]