WILKIE COLLINS'S WOMEN
[ Front Page ] [ Wilkie Collins's Biography ] [ Wilkie Collins's Family ] [ Martha Rudd ]
CAROLINE GRAVES (c. 1830-1895)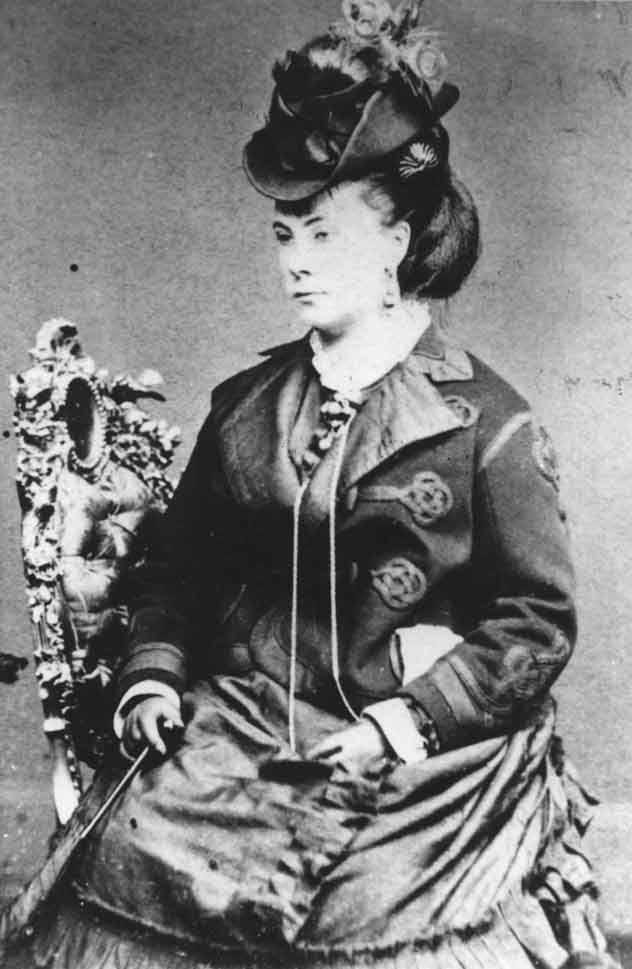 Photograph from The Secret Life of Wilkie Collins by William Clarke
The mysterious woman who lived with Wilkie Collins from about 1858 until his death in 1889, except for a two year period from 1868. Dedicatee of The Fallen Leaves (1879). Often described as the original 'woman in white', because of a passage in the biography of Millais by his son. He described the melodramatic night-time meeting of Millais, Wilkie, and Charles Collins with a distraught woman running away from a man who was keeping her prisoner under mesmeric influence. Though this story was partially corroborated in an account given by Kate Dickens, it is almost certainly fabricated or greatly exaggerated.
Little about Caroline Graves was as it seemed. She described herself as the daughter of a gentleman named Courtenay, reduced her age by several years, and claimed her late husband, George Robert Graves (1829-1852), was 'of independent means.' She was in fact the daughter of a carpenter, John Compton, and his wife, Sarah; born at Toddington in Gloucestershire and christened Elizabeth. She moved to Bath and was married there in 1850 to Graves, a shorthand-writer, and the son of a stone-mason. The couple lived in Clerkenwell, London, and a daughter, Elizabeth Harriet, was born eleven months later. George Graves died in January 1852.
Wilkie Collins probably met Caroline, as she was subsequently known, in the spring of 1856 when he was temporarily living in lodgings in Howland Street, Tottenham Court Road. Caroline and her widowed mother-in-law, Mary Ann Graves, were living in the same area. Nothing is known, for certain, of the exact circumstances of Caroline's meeting with Collins, but by the end of 1858 they were living together, first at 124 Albany Street, and from spring 1859 at 2a New Cavendish Street. Although they never married, they continued to live together, apart from one significant break, until Collins died. Caroline was a beautiful woman who looked far younger than her actual years and, though she had little or no formal education, managed to transcend her humble beginnings and pass herself off as a 'lady'. During the years when Collins was writing his greatest novels, she undoubtedly contributed much to his emotional security, as well as to his physical comfort.
In October 1868, however, the household was suddenly disrupted when Caroline Graves married Joseph Clow, almost certainly in response to Collins's relationship with Martha Rudd, and probably after Collins had himself refused to marry Caroline. Her daughter and Collins's doctor, Frank Beard, were the witnesses and Collins was present at the the ceremony at Marylebone parish church. The marriage was clearly a mistake, for by April 1871 Caroline was back at 90 Gloucester Place, and her relationship with Wilkie was resumed in spite of his continuing commitment to Martha Rudd and his three children by her.
Caroline Graves was known for form's sake as Collins's 'housekeeper' and did not accompany Wilkie on social occasions such as dinner parties; it is also very unlikely that she was ever introduced to Wilkie's mother. Caroline entertained many of his friends who visited them at home, travelled with him on the Continent, went to the theatre with him and sometimes wrote letters on his behalf when he was ill. During Wilkie's last illness she nursed him devotedly and when she died in 1895 was buried in the same grave.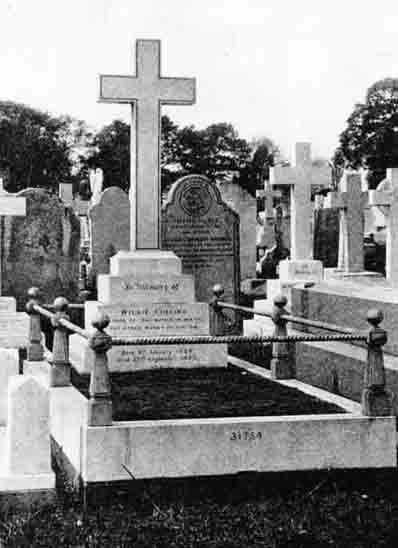 Wilkie's and Caroline's grave in Kensal Green
(No. 31754, Square 141, Row 1)
[ Front Page ]