[ Front Page ] [ Where Collins Lived ]
WILKIE COLLINS IN GLOUCESTER PLACE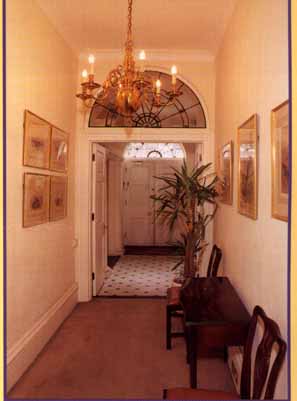 Modern photograph of a nearby, recently restored house in Gloucester Place.
(Number 90 would have looked very similar)
90 Gloucester Place (now renumbered 65) is a large terraced Georgian house in central London's Marylebone district. It was Collins's home from September 1867 till February 1888. (He was always careful to designate it Portman
Square to avoid confusion with another Gloucester Place off nearby Westbourne Grove.) The house has four stories, a large stone staircase and an impressive double drawing-room on the first floor where Collins did most of his writing. The lease included, in the mews to the rear, stables which Collins sublet to subsidise the rent. Caroline Graves and her daughter, Harriet, lived with Collins for almost all of his time in Gloucester Place. There were three servants and his much loved dog, Tommie. Collins always liked animals and there was usually a cat in the household as well.
Before moving in, Collins wrote to his mother on 3 August 1867:
"On Tuesday next I am to complete the purchase of the house at the lawyers in Gray's Inn. Later the same week, he continued "I am gradually settling down - but the work people are slow, and my pictures and books - and my bath and my drains - are still to be arranged. No bad smells - only alterations and improvements which it is as well to make once for all, before I am settled."
1 September 1867: "I am beginning to settle down. In another ten days, most of the workers will be out of the house. The pictures are hung. I have had the frames re-gilt and they look beautiful. The prints and drawings must wait till I get back from Southborough."
12 September 1867: "I am safe back again among the British Workmen. The Statement now is that they will be done in a week. Ha! ha! Never mind. A certain necessary place has got the most lovely new pan you ever saw. It's quite a luxury to look into it."
CONTEMPORARY DESCRIPTIONS OF GLOUCESTER PLACE
In the series called 'Celebrities at Home' published in the weekly newspaper The World of 26 December 1877, Edmund Yates described Collins as:
"A short man, with stooping shoulders and tiny hands and feet, with bright pleasant face looking out of a forest of light-gray, almost white, hair, greets us as we enter the big double drawing-room in Gloucester Place. Mr Wilkie Collins when at work sits at a massive writing-table furnished with a small desk of the same design as that used by Charles Dickens. On the left is a japanned tin box containing what Mr Collins calls his stock-in-trade - plots and schemes for stories and dramas.....A little to the left of the writing-desk hangs a picture by Mr Collins's father, the Royal Academician."
Hall Caine, on the other hand, in his autobiographical My Story (1908) recollected:
"The house was large and rather dingy. The walls were panelled, the stairs were of stone, the hall was cold, and the whole house cheerless.....On the walls of the room that I was shown into hung pictures of the greatest interest. There was an etching of Dickens.....Then there was a portrait of Collins himself in the earliest years of his manhood...."
Inside 90 Gloucester Place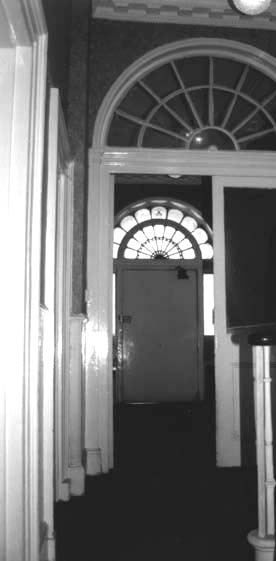 At the end of 1887, the lease on Gloucester Place was running out and Collins complained to the actress, Mary Anderson, 'my landlord, the enormously rich Lord [Portman] asked me such exorbitant terms for allowing me to continue to be his tenant that I confronted the horror of moving in my old age.' (In The Legacy of Cain (1888) Collins called the aristocracy 'A race of people who are rich without earning their money, and noble because their great-grandfathers were noble before them'). Collins found new accommodation in Wimpole Street and after twenty years left Gloucester Place in February 1888.
Inside 90 Gloucester Place
Number 65, as it now is, has a blue plaque denoting Collins's residence, unveiled for the old London County Council by Michael Sadleir on 23 May 1951. The house was reputedly damaged during the 1939-1945 war. It is currently in a very sad state of neglect.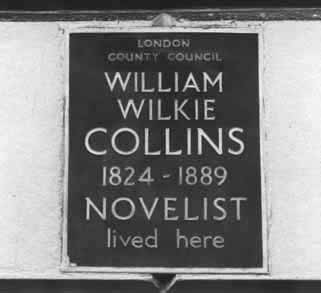 Portman Square - situated at the lower end of
Gloucester Place, looking East towards Wigmore Street.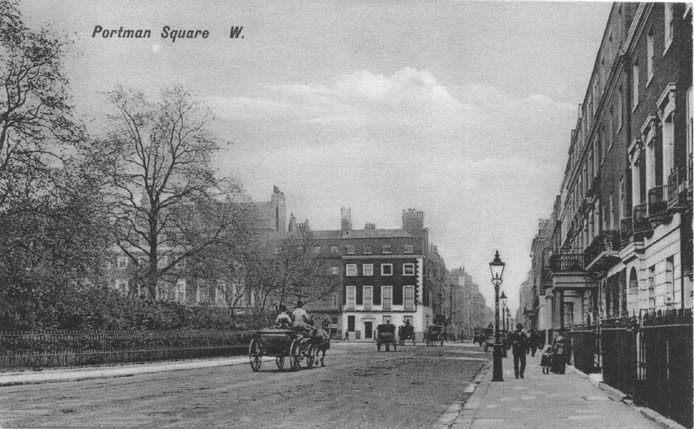 [ Front Page ] [ Top of page ] [ Where Collins Lived ]