'You will persist in thinking that my happiness depends on my sight.'
[ Medical Notes ] [ Plot Summary ] [ Publishing History ]
[ Front Page ]
| | |
| --- | --- |
| | |
| First English Edition 1872 | First American Edition 1872 |
SOME MEDICAL NOTES
Poor Miss Finch was published in 1872 and dedicated to Mrs Elliot (Frances Dickinson). Collins returns to the theme of 'bodily infirmity' with this story of a young girl's temporary recovery of sight 'exhibiting blindness as it really is.'
The heroine, Lucilla, has been blind with cataracts from about the age of one. A significant part of the plot is taken up with the efforts of the eccentric but likeable German doctor, Herr Grosse, to restore her sight and his disagreement with the conservative English oculist, Mr Sebright. The operation, unfortunately, is only briefly successful, with Lucilla once again lapsing into blindness.
Collins's account of her early attempts at seeing, however, represents his careful research and a remarkable awareness of visual psychology and perception. His descriptions of her disorientation, lack of spatial judgement, dislike of dark colours, and her continuing ability to recognise shape and form only by touch all bear a striking resemblance to a 20th century case history of recovery from blindness. This was documented by Richard Gregory and written in 1966, nearly 100 years later.
Initial elation is frustrated by the difficulties of experiencing the real world through sight without the aid of touch. Depression follows, ending in rejection of the newly acquired sense. More unlikely are the clinical premises for Lucilla's infant cataracts. Most visual development in children occurs up to the age of five. If this is prevented, then vision is usually lost for ever and cannot be regained at a later age. This condition is called amblyopia (or lazy eye). In any event, after cataract surgery thick, high-powered spectacles are almost always necessary to replace the focusing ability of the eye's natural lens. The extent to which Lucilla recovers lost vision after twenty years, without even the need for spectacles to write her journal is medically almost impossible.
The reading public, however, were convinced and Collins after several requests for the address of the German oculist, Herr Grosse, was obliged to add a note to the second edition that he had 'no (individual) living prototype' and was 'a caricature instead of a character.' In order to create the hero's 'blue' appearance (dyschromia), horrifying to Lucilla after she regains her sight, Collins was forced to rely on a rare and already outmoded type of treatment for epilepsy.
Other details of the novel seem genuinely autobiographical. Collins stayed in Lewes during March 1870; little Jicks and Mrs Finch's latest child were the same age as Collins's daughters, Marian and Harriet Dawson.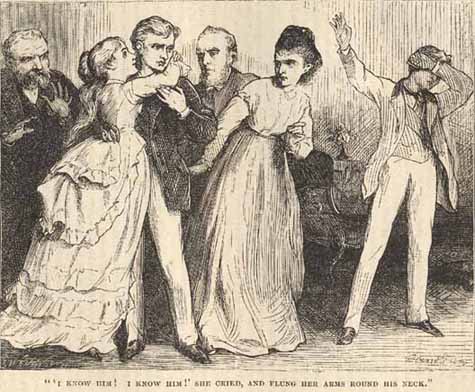 Illustration from the 1875 Chatto & Windus Piccadilly Novels
PLOT SUMMARY
Illustrations from the Chatto & Windus 1875 Piccadilly Novels
Madame Pratolungo, the narrator, is a Frenchwoman, widow of a South American republican. She takes the position of companion to Lucilla Finch who is now 21 and has been blind with cataracts since she was a year old. Lucilla lives in a wing of her father's house in the Sussex village of Dimchurch, near Lewes. Finch, a pompous clergyman, fell out with his first wife's family, the Batchfords. However, he has fourteen children from his second marriage and, perpetually short of money, is delighted to accept an over-generous allowance from Lucilla's personal inheritance.
Lucilla falls in love with their close neighbour, the reclusive Oscar Dubourg whose main interest is making objects from precious metals in his workroom. Oscar is totally devoted to his identical twin brother, Nugent, who narrowly saved him from hanging by discovering crucial evidence proving him innocent of a murder.
Oscar is savagely attacked and robbed of his gold and silver plate, and sends a message for help written in blood on the frock of Lucilla's wandering three-year-old half-sister, Selina (called Jicks). Oscar appears to recover from a blow to the head but begins to suffer from increasingly bad epilepsy. He is offered a cure: prolonged treatment with silver nitrate which has the side effect of permanently staining the skin dark blue, almost black. The marriage is postponed and, against the advice of Madame Pratolungo, Oscar misleads Lucilla into thinking that it is Nugent who has been undergoing the treatment.
Nugent, identical to Oscar except for his skin colour, has returned from America where he squandered his half of the family fortune. The only way Lucilla can tell the brothers apart is by her sense of touch which produces a 'tingle' with Oscar. Knowing of Lucilla's blindness, Nugent brings with him the eccentric and exuberant Herr Grosse, a noted German oculist who examines Lucilla in collaboration with the staid English doctor, Mr Sebright. Their opinions differ but Lucilla, eager to take any chance of actually seeing her beloved Oscar, follows the advice of Grosse and has the operation.
Nugent is also in love with Lucilla and knowing her peculiar prejudice against dark colours is happy to perpetuate the confusion of identity. When the bandages are removed he contrives to be the first person seen by Lucilla and as intended is mistaken for his brother. The real Oscar, an object of pity and horror, leaves Dimchurch to go abroad, prepared to sacrifice his own happiness for that of Lucilla and the brother who saved his life. Grosse reluctantly consents to the deception because the shock of the truth may hinder his patient's recovery. He recommends Lucilla to take the air at Ramsgate and in the absence of Madame Pratolungo, in France to nurse her incorrigibly gallant old father, Lucilla is accompanied by her aunt, Miss Batchford.
Nugent writes to Lucilla pretending to be Oscar and then impersonates him at Ramsgate. He tries to press Lucilla into an immediate marriage before either Reverend Finch or Madame Pratolungo can uncover the deception. Lucilla's old sense of touch tells her that something is wrong and the stress causes her sight to deteriorate. Nugent, in desperation, tries to convince her that Madame Pratolungo is her enemy. He tricks Lucilla into leaving for London where she stays with his married relative while a marriage license is obtained in the name of Oscar.
Madame Pratolungo has traced Oscar and they return to England to prevent the fraudulent marriage. Lucilla has once more lost her sight and immediately recognises her true love by touch. Nugent repents and gives Oscar the marriage licence permitting the wedding two days later. Nugent, asking them to name their future son after him, joins an unsuccessful Arctic expedition and is eventually found frozen to death clutching a lock of Lucilla's hair.
PUBLISHING HISTORY AND BIBLIOGRAPHY

Serialisation
First published in Harper's Weekly, 2 September 1871 - 24 February 1872 and in Cassell's Magazine, October 1871 - March 1872.
Book Publication
First English edition
3 volumes, Richard Bentley, London 1872. Brown cloth, covers blocked in black, spines lettered in black, cream end-papers. No half-titles. Published 26 January 1872. Copies in bright blue cloth, spines lettered in gilt with no publishers' imprint are of later issue.
Vol. I (xii) + 316 pp. Publishers' advertisements occupy p (315)
Vol. II iv + 316 pp
Vol. III iv + 320 pp
1 volume editions
Bentley 1873 (with additional 'note to this edition'); Chatto & Windus 1875-1913 (with 12 illustrations, by G. du Maurier and E. Hughes); Sutton, Stroud 1994; World's Classics 1995 (critical edition, edited by C. Peters).

1st US edition
Harper's, New York 1872
Translations
Russian, St Petersburg 1873, 1875; German, Leipzig 1874; French, Paris 1876
[ Top of page ] [ Main Works ] [ Front Page ]