THE SEASIDE LIBRARY
[ Front Page ]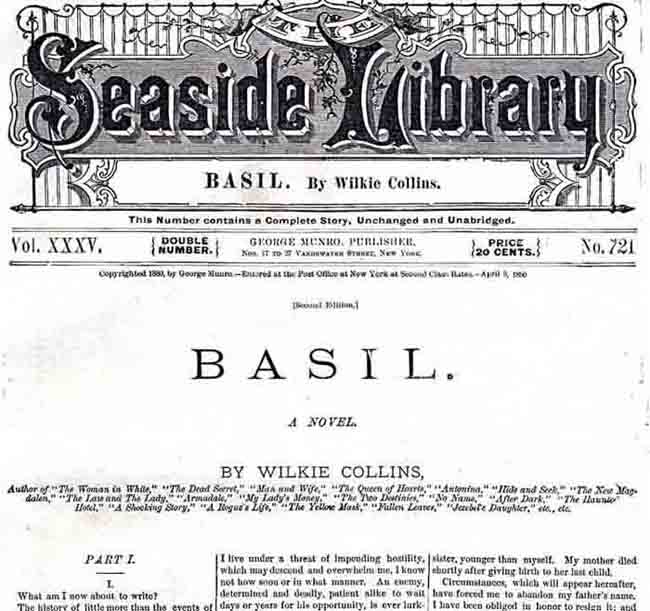 The Seaside Library was one of the most successful New York publishers of cheap pirated reprints. It was run by George Munro who sent Collins payment for some stories; in 1886 Collins considered offering him The Guilty River. The Seaside Library was usually issued three times a week, mainly at ten or twenty cents. There also followed a later series, the 'Seaside Library Pocket Edition'. Collins titles included:
The Woman in White (no 10)
The Dead Secret (1877, no 14)
Man and Wife (1877 no 22)
The Queen of Hearts (1
877, no 32)
Hide and Seek (1877, no 42)
The New Magdalen (1877, no 76)
The Law and the Lady (1877, no 94)
Armadale, (no 180)
My Lady's Money (no 191)
The Two Destinies (1879, no 225)
No Thoroughfare (Dickens and Collins, no 239)
No Name (no 250)
After Dark (no 286)
The Lazy Tour of Two Idle Apprentices (no 372, by 'Dickens')
The Haunted Hotel (no 409)
A Rogue's Life (1879, no 487)
The Yellow Mask (1879, no 551)
Poor Miss Finch (1879, no 634)
Jezebel's Daughter (1880, no 696, first book edition)
Basil (1880, no 721)
The Captain's Last Love (1880, no 713)
The Magic Spectacles (1880, no 745)
The Duel in Herne Wood (1880, no 905)
Who Killed Zebedee? (1881, no 928)
The Black Robe (1881)
The Frozen Deep (1881, no 971)
Your Money or Your Life (1881, no 1164)
Heart and Science (1883, no 1544)
Fie! Fie! or the Fair Physician (1883, no 1587)
"I Say No" (1884, no 1856)
The Girl at the Gate (1885, no 2030)
The Evil Genius (1886, no 2069)
Munro was notoriously unreliable in allocating numbers but most of those titles traced follow a logical sequence according to the date of publication.
SEASIDE LIBRARY POCKET EDITION
Heart and Science (1883, no 167)
The Queen of Hearts (1885, no 591)
My Lady's Money (1885, no 623)
The Evil Genius ([1886], no 764)
The Guilty River (1886, no 896)
The Haunted Hotel (1887, no 977)
The Legacy of Cain (1888, no 1095)
A Rogue's Life ([1890], no 1347)
[ Collected Editions ] [ Front Page ]