'False appearances. As we all know, they lie like the truth'
Excerpts from Wilkie Collins: an Illustrated Guide by Andrew Gasson. Oxford University Press, 1998.
[Plot Summary] [Publishing History]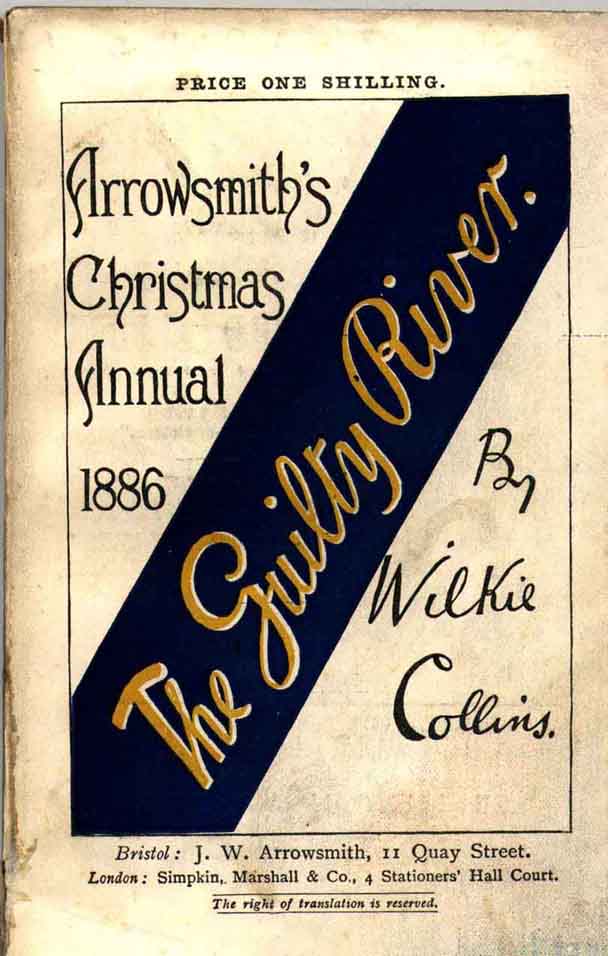 1886 first edition in paper wrappers
Short novel originally published as the 1886 Arrowsmith's Christmas Annual. Written late in Collins's career, it incorporates two of the themes often featured in his work: the psychological effects of physical handicap, in this case deafness, and the love of a middle-class man for an intelligent and independent woman from a lower social stratum. Collins began writing in September and worked twelve hours a day to enable the story to be published on 15 November 1886.
Gerard Roylake returns from Germany on the death of his father to take up his inheritance at Trimley Deen. On his first evening he walks to the nearby River Loke and recognises his childhood friend, Cristel Toller, the miller's daughter. He also meets a deaf man living at the mill known only as The Lodger. Gerard's stepmother, meanwhile, is keen to introduce him to local society and in particular to her friend Lady Rachel's sister.
Gerard and Cristel gradually fall in love, incurring the Lodger's jealousy. He is obsessed with Cristel and loans Gerard a manuscript which describes his fear of inherited evil (from both his father and grandfather) as well as his study of medicine, illness and subsequent deafness. Pretending friendship, the Lodger invites Gerard to tea with the real intention of poisoning him. Despite warnings, the na´ve Gerard accepts. Cristel realises the deadly intentions of the Lodger and with the help of his servant, Gloody, administers an antidote that saves Gerard's life. Gerard proposes marriage which Cristel declines because of their difference in station. She then disappears and although the Lodger is suspected and followed no trace of her is found. After a year away on a Pacific island, Gerard receives a letter from the now dying and repentant Lodger. He reveals that, with the aid of her father and Lady Rachel, Cristel had been abducted along the 'guilty' River Loke . She has been cruising on a yacht with her wealthy uncle, Stephen Toller, whose wife has been improving Cristel's education. On her return to England she marries Gerard to become the mistress of Trimley Deen.
PUBLISHING HISTORY FOR THE GUILTY RIVER
Serialisation
None
Book publication
First edition
1 volume, J. W. Arrowsmith, Bristol 1886. Buff paper wrappers, printed in dark blue, black and yellow. No half-title. Arrowsmith's Christmas Annual. Published 15 November 1886. Variant binding in maroon cloth
(viii) + 200 pp. Advertisements occupy pp (i-vi), (viii) and (189-200)
Reissued in Arrowsmith's Bristol Library (no 19) 1887; 1899, [1911]. Sutton, Stroud 1991.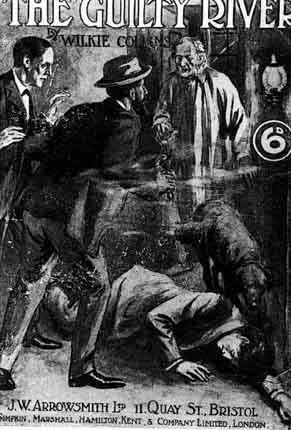 Later re-issue
1st US edition (simultaneous with English) Harper's Handy Series (no 105), New York 1886.
Robert Ashley records another story by Collins with the same title, issued in the same year by the same publisher, but with a completely different plot. This was probably what Collins called 'a bogus story' of a dozen pages written and published to preserve the title.
[Top of Page] [ Main Works] [Front Page]