WILKIE COLLINS IN HARLEY STREET
[ Front Page ] [ Collins Main Homes ]
Some comments by Collins about doctors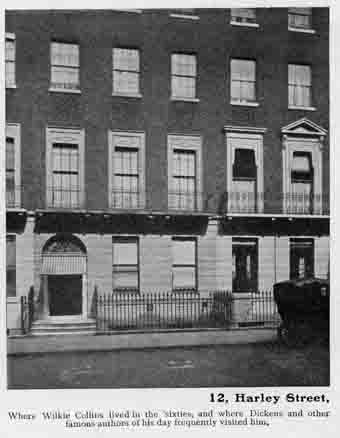 12 Harley Street as it looked in Collins's time.
Harley Street is situated in central London's Marylebone area and is renowned for its medical practitioners. Collins lived at 12 Harley Street (subsequently renumbered 26) with Caroline Graves from 1860-1864 and it is here that he wrote most of The Woman in White. He rented rooms from his dental surgeon for several years, George Gregson, who subsequently moved to number 63 Harley Street. George Critchett, Collins's ophthalmologist, practised at 21 Harley Street.
Although not mentioned by name, we can easily imagine the opening lines of The Haunted Hotel taking place in Harley Street:
In the year 1860, the reputation of Doctor Wybrow as a London physician reached its highest point. It was reported on good authority that he was in receipt of one of the largest incomes derived from the practice of medicine in modern times.

One afternoon, towards the close of the London season, the Doctor had just taken his luncheon after a specially hard morning's work in his consulting-room, and with a formidable list of visits to patients at their own houses to fill up the rest of his day - when the servant announced that a lady wished to speak to him.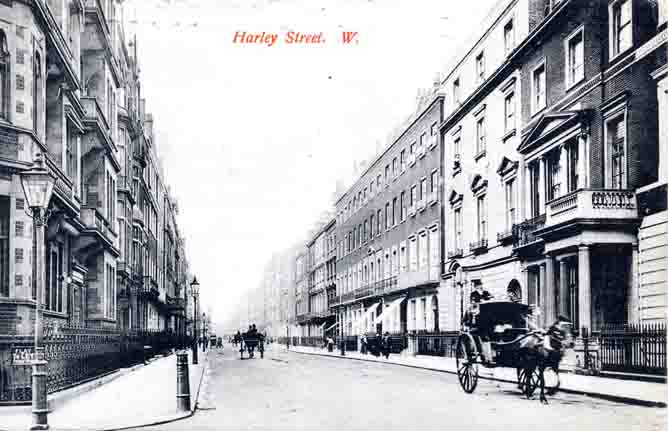 Number 12 was on the right hand side nearly level with the distant horse-drawn cab.
Some comments by Collins about doctors
[ Front Page ] [ Collins Main Homes ]