PARODIES, PLAGIARISM AND IMITATIONS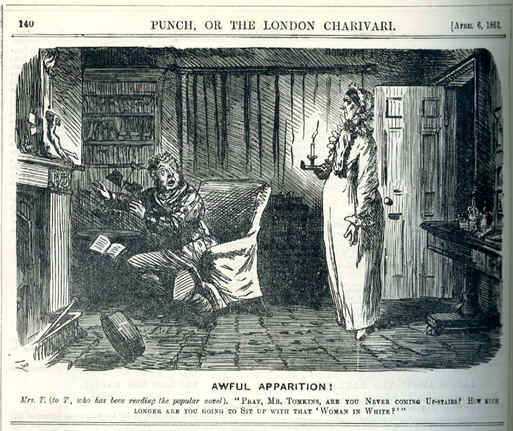 INTRODUCTION
Once he had achieved fame and success with The Woman in White, Collins and his works were the subject of numerous parodies as well as imitations and plagiarism. The title itself was imitated with various 'women' in mauve, red, grey and black and these have continued into the twentieth century. E. C. Bentley's classic detective story, Trent's Last Case (1913), was called in America The Woman in Black and Susan Hill used the same title for her 1983 ghost story. For the last 60 years, Collins has also appeared as a character in the works of other – generally much lesser - writers.
Collins may well have appreciated in journals such as Punch or The Mask the several parodies of himself, his sensation novels and his epistolary style; he certainly became an enthusiastic 'Friend of Sloper' in 1886. He would have been less amused by imitations such as Under Lock and Key by T. W. Speight in 1869 and overt acts of plagiarism such as the unauthorised dramatisation of The Woman in White at the Surrey Theatre in 1860. The battle with pirates, especially in America, was relentless. It affected his mode of publication and it culminated in his writing Considerations on the Copyright Question Addressed to an American Friend in 1880. He became a founder member of the Society of Authors in 1884.
Possibly more than any other writer, Collins has become the gold standard by which modern mysteries are judged. Listed below are some sixty examples of Parody, Plagiarism and Imitation covering such fields as cartoon, literature, music and art. There are also several notional appearances of Collins in the works of others together with modern resurrections of his most notable characters. The examples span nearly 160 years, from 1860 to the present day. There are no doubt others which have escaped notice and yet more still to come.
The Woman in White. Unauthorised dramatic adaptation by J. M. Ware at the Surrey Theatre, November 1860.
The Woman in White Waltz. Chromolithograph music cover illustrated by J(ohn) Brandard with music by C(harles) Handel R(and) Marriott. London: Boosey & Sons Musical Library, [c. 1860].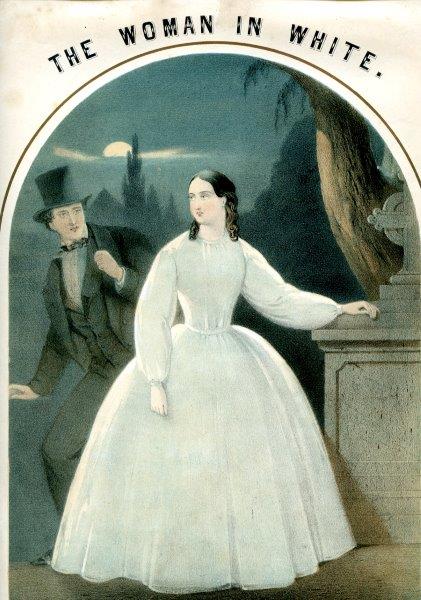 The Woman in White, dedicated to Wilkie Collins Esqe. Chromolithograph music cover illustrated by Robert Jacob Hamerton. Words by J. E. Carpenter; music by Charles William Glover. London: Stannard & Dixon, [c.1860].
'Awful Apparition!' Cartoon on p. 140 of 'Punch' for 6 April 1861; with the text 'Mrs. T. (to T., who has been reading the popular novel). "Pray, Mr. Tomkins, are you Never coming Up-stairs? How much longer are you going to sit up with that 'Woman in White?'"'. Vol. XL, January - June 1861.
'Tom Tiddler's Ground. The Committee of Concoction'. "Extraordinary proceedings in Wellington-Street. | [From our own Reporter.] A Humorously attended and highly influential meeting of literary gentlemen was recently held at the office of All the Year Round, to arrange a plan for the Christmas number of that deservedly popular periodical." A cartoon depicting Charles Dickens, Wilkie Collins, George Augusta Sala, John Hollingshead, and W. Moy Thomas concocting the new Christmas number. With a fictional discussion including lengthy contributions from Collins. The caption to the background picture reads 'Collings Wilkie, or the Modern Prometheus." Published in The Queen, 21 December 1861, pp 313-315.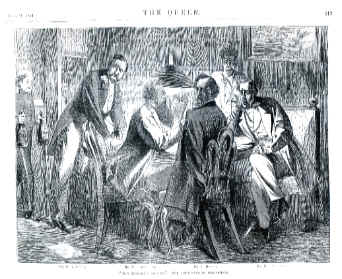 '"Supping on Horrors", Passages from Modern English Poets Illustrated by the Junior Etchings Club'.

  

Illustration of a horror-struck young man seated at a table, reading, in front of a playbill of The Red Vial.

  

London: Day & Son, 1861.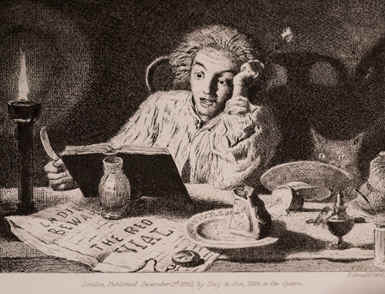 The Woman in Mauve. A Sensation Drama, in Three Acts. By Watts Phillips. London: Thomas Hailes Lacy, [1864]. 'First performed at the Prince of Wales Theatre, Liverpool, December 1864; at the Haymarket, London, on Saturday, March 18, 1865. The character, Jocelyn, on pp. 9-10 reads from The Woman in White the early scene with the meeting at the crossroads.
La Sonnambula; or, the Supper, the Sleeper, and the Merry Swiss Boy. Being a passage in the Life of a famous Woman in White. A burlesque by H. J. Byron of Bellini's 1831 opera. First performed at the Prince of Wales Theatre on 15 April 1865; staged again in 1880 at the Royalty Theatre.
'Slow Thoroughfare' by Warles Chickens and Chilky Dollins. Published in Banter, 23 December 1867 as the Extra Christmas Banter Story.
'No Thoroughfare. A Tale in Four Acts'. By Charles Dickens and Wilkie Collins. Published in The Razor, or, The London Humorist and Satirist, 5 February 1868, p. 50.
'No Thoroughfare by C―s D—s

', by Bellamy Brownjohn, and Domby. Boston: Loring, 1868. (Second Edition.) 15 pp.






'No Thoroughfare. The Book in Eight Acts'. Published in The Mask: A Humorous and Fantastic Review of the Month edited by Alfred Thompson and Leopold Lewis, Vol. I, February 1868, pp. 14-18 with a full-page cartoon on p. 15.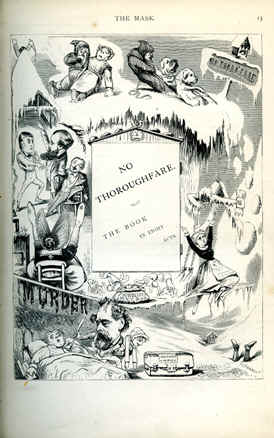 'The Moonstone and Moonshine'. Published in The Mask: A Humorous and Fantastic Review of the Month edited by Alfred Thompson and Leopold Lewis, Vol. I, August 1868, pp. 205-213. Both parts in the yearly bound volume.
'A new Novel Company. The first novel by the Sensation Novel Company (Limited)'. Parody of sensation novels with titles such as The Woman with No Name and No Thoroughfare without a Heart. Published in Punch for 7 March 1868, Vol. XIV, p. 105 and introducing Chicken Hazard, serialised in 15 weekly parts, from 14 March – 27 June 1868. Reprinted in Mokeanna!: A Treble Temptation by F. C. Burnand, London: Bradbury, Agnew, & Co., 1873.
Under Lock and Key. Thomas Wilkinson Speight. London: Tinsley Brothers, 1869. Reissued in facsimile by the Arno Press: New York, 1976. The plot includes the Great Mogul Diamond and an opium user. There are several other similarities to Collins's works, including multiple narrators; a father and son as business advisers, rather like Pedgift and Pedgift Jr in Armadale; a daughter reunited with her mother on the latter's deathbed as in The Dead Secret; and a servant who is really a spy looking to steal the treasure like Magdalen Vanstone in No Name. Immediately after the title-page appears a disclaimer, inserted either at the request of Speight or by a cautious William Tinsley who had just recently had a disagreement with Collins over the publication of the second edition of The Moonstone.
In justice to himself the author thinks it requisite to state that the entire plan of this story was sketched out, and several of the chapters written, before the first lines of Mr. Wilkie Collins's "Moonstone" had been given to the Public. He has further declined himself the pleasure of reading "The Moonstone" till after the completion of his own story, so as to preclude any possible charge of having derived the outline of his plot from the work of another writer. London, February, 1869.
'No Title by W‑lk‑e C‑ll‑ns'. A parody of The Woman in White by Bret Harte, published in Condensed Novels, Boston: James R. Osgood and Company, 1871, pp. [163]-176. Also included in The Select Works of Bret Harte, with an introduction by J. Montesquieu Bellew, London: Chatto & Windus, pp. 252-260.
The Fosco Galop, dedicated to Wilkie Collins Esqre. By G. Richardson. London: Cramer Wood & Co. and Lamborn Cock & Co. [c.1871]. Chromolithograph music cover illustrated by Robert Jacob Hamerton. With portraits of George Vining as himself and as Fosco above an illustration from the stage production of The Woman in White.
The Woman in White. By Walter Burnot, sung with great success by E. A. Hart. London: Hopwood & Crew, [nd c.1872]. 4 pp. music score with chromolithograph music cover illustrated by Alfred Concanen showing an open copy of Poor Miss Finch lying on the floor beside a seated woman dressed in white with a bright blue face.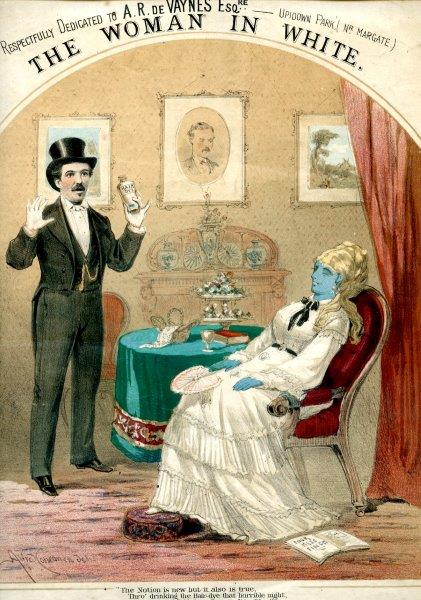 'Dialogues with Dramatists. (Being Verbatim conversations communicated to JUDY by a Gentleman well known to them all.) Mr Wilkie Collins.' A notional conversation between Collins and Knowall accompanied by a full-length caricature of Collins by Marie Duval. Published in Judy, or the London Serio-Comic Journal, 1 December 1875, vol. 18, p. 61. (http://www.marieduval.org/drawings/judy-v18-p60).
'The Sequel to Mr. Wilkie Collins's Moonstone'. A six-frame cartoon with captions by Marie Duval about Bham Jahm Poo Poo and his attempts to steal the Moonstone. Published in Judy, or the London Serio-Comic Journal, 15 December 1875, vol. 18, p. 88. (http://www.marieduval.org/drawings/judy-v18-p89).
'The Gwilty Governess and The Downy Doctor; or, Another Good Lady Help Gone Wrong! A New Sensation Drama, in One Prologue and Two Compartments', by G. M. Layton at the Charing Cross Theatre, May 1876. Subsequently produced at the Theatre Royal and Opera House, Brighton, 31 July 1876, directed by John Hollingshead.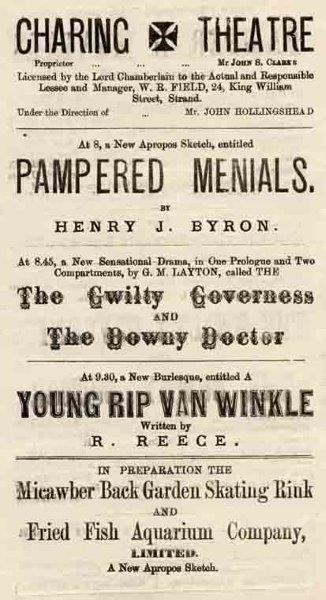 Fashion and Passion; or Life in Mayfair. Duke de Medina Pomar. London: Chapman & Hall, 1876. Consists of 94 short chapters, each one with the title of a contemporary work of fiction by other authors but stated as not written by them. 'Not by Wilkie Collins' is represented by five titles, The Woman in White, After Dark, Man and Wife, The Law and the Lady and 'A Plot in Private Life'.
'Wilkie Collins'. A parody of a diary narrative on 13 August 1879 in The Bird o' Freedom, a political newspaper edited by John Corlett and priced at 1d.
PUNCH'S FANCY PORTRAITS. – NO. 66. | WILKIE COLLINS, | AS THE MAN IN WHITE DOING INK-AND-PENANCE FOR HAVING WRITTEN THE | BLACK ROBE. Caricature by Linley Sambourne, published in Punch 14 January 1882. Cartoon showing Collins in a white robe holding a large candle and with references to several of his titles.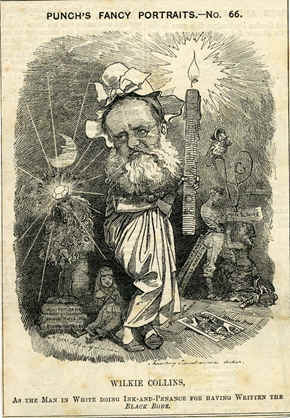 'The Woman in Tights. | By Wilkie Collins'. Written by William Evison Rose for a 300 word parody competition and published in The Weekly Dispatch for 25 February 1883. Republished in Parodies of the Works of English and American Authors, W. Hamilton, Reeves & Turner: London, 1889, Vol. 6, p. 242.
'The Pirate Publishers – an International Burlesque that has had the Longest Run on Record.' Two-page full colour illustration published in Puck on 24 February 1886, Volume XVIII, pp. 408-9. Periodical originally published in Germany by Keppler & Schwarzmann and subsequently in America. Features a prosperous looking pirate treading on a volume entitled Law surrounded by books at give-away prices of 9 or 10 cents and by caricatures of British, European and American authors pointing accusatory fingers. Collins is shown full length prominently in the bottom right hand corner.
Ally Sloper's Half-Holiday. Illustrated comic paper for 6 March 1886, Vol. III., No. 97. Features Collins's reply on p. 79 in the form of a letter to 'Ally Sloper, Friend of Man, &c., &c., &c.' gratefully acknowledging the Award of Merit, Friend of Sloper (F.O.S.). Sloper was an amiable con-man, full name 'Alexander Sloper F.O.M. (Friend of Man)'. He established a recipro­cal order for distinguished readers, known as The Friends of Sloper, sending out certificates entitling the holder to style himself or herself F.O.S.
Old Friends – Essays in Epistolary Parody. Andrew Lang. London: Longmans, Green and Co., 1890. Correspondence between Count Fosco and Samuel Pickwick using the Forest Road, St. John's Wood address from The Woman in White.
The Sign of Four. Arthur Conan Doyle. First published in Lippincott's Magazine, February 1890 and subsequently London: Spencer Blackett, 1890. Holmes's 'three pipe problem' echoes uncle Joseph in The Dead Secret (1857) where he says "I smoke three pipes and think three thoughts."
'The Red-Headed League.' Arthur Conan Doyle. First published in The Strand Magazine, August 1891 and subsequently in The Adventures of Sherlock Holmes. London: George Newnes, 1892. The Holmes dictum that 'when you have eliminated the impossible, whatever remains, however improbable, must be the truth' sounds remarkably like Felix Sweetsir's 'exhaustive system of reasoning' from Collins's 'My Lady's Money' (1877).
The Woman in White. Illustration by Aubrey Beardsley. Originally published in the London periodical The Savoy, No. 5, September 1896.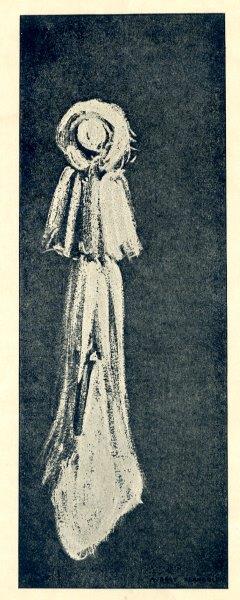 Young Lord Stranleigh. Robert Barr. London: Ward Lock & Co, 1908. Features a large motor yacht called 'Wilkie Collins' with a captain and the chief engineer named respectively 'Wilkie' and 'Collins'. There is also a copy of The Woman in White in each cabin in a different matching colour.
'Count Fosco and Mr Quilp'. Caricature by G. K. Chesterton in a series of 'Villainous Plotting'. Printed in The Odd Volume, published in 1911 in aid of the Funds of the National Book Trade Provident Society.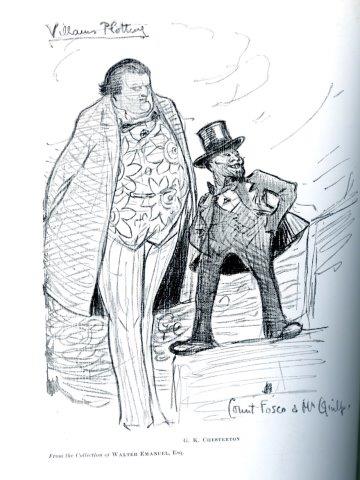 'A Night at an Inn' in Plays of Gods and Men. Lord Dunsany (Edward Plunkett). Dublin: The Talbot Press, 1917. Hindu assassins attempting to reclaim a ruby stolen from the eye of their idol.

The Five Red Herrings. Dorothy L. Sayers. London: Victor Gollancz, 1931. On p. 170, Lord Peter Wimsey comments "this case resembles the plot of a Wilkie Collins novel in which everything happened just too late to prevent the story from coming to a premature happy ending."

The Hawkmoor Mystery. W. H. Lane Chauford. London: Ward Lock & Co., 1932. A valuable diamond is stolen from an Indian Temple and twenty years later strange events occur in an English country house.

The Dead Man's Knock. John Dickson Carr. London: Hamish Hamilton, 1958. Features a fictional unrecorded Collins manuscript plus letters to Dickens and a locked room murder.

The Third Girl

. Agatha Christie. London: Collins, 1966. Hercule Poirot complains of "the lack of method or order in the romantic outpourings of Wilkie Collins."

The Hungry Goblin. John Dickson Carr, London: Hamish Hamilton, 1972. Uses Collins as a character to help solve an 1869 mystery.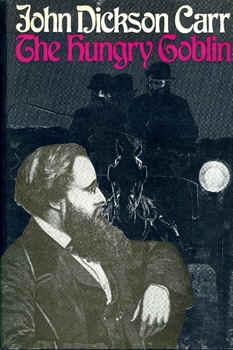 Egad, The Woman in White. 'An astonishing and inspiring melodrama adapted from Wilkie Collins' Victorian classic, "The Woman in White." A tale of treachery, human frailty revealed, and suffering unabated'. Tim Kelly. New York: Samuel French, Inc. [1975].

Wilkie Collins' Classic Tale, The Woman in White! 'A Cautionary Chronicle of Monstrous Evil and Blackhearted Villany in Song & Dance'. Book by Tim Kelly, Music & Lyrics by Jack Sharkey. New York: Samuel French, Inc. [1987].

The Detective and Mr Dickens

. William J. Palmer. New York: St. Martin's Press, 1990. Set in April and May 1851 and based his secret journal, Collins teams up with Dickens and Inspector William Field to investigate a brutal murder.

The Highwayman and Mr. Dickens. William J. Palmer. New York: St. Martin's Press, 1992. Reissued in 1994 by Ballantine Books. Collins, Dickens and Field investigate a double murder. Taken from Collins's secret journal.

The Hoydens and Mr. Dickens. William J. Palmer. New York: St. Martin's Press, 1997. Collins, Dickens and Field investigate a murder and bank robbery in which Ellen Ternan is a suspect. Taken from Collins's secret journal.

The Dons and Mr Dickens: The Strange Case of the Oxford Christmas Plot. William J. Palmer. New York: Minotaur Books, 2000. Collins, Dickens and Charles Dodgson, former schoolmate of Collins, investigate the murder of an Oxford don.

The Rag & Bone Shop. Jeff Rackham. Cambridge, Mass.: Zoland Books, 2001. Reissued by Penguin Books in 2002. Preposterously speculative novel about Dickens and Ellen Ternan using Collins as one of the narrators.

The Dark Clue

. James Wilson. London: Faber & Faber, 2001. A sequel to The Woman in White where Walter Hartright and Marian Halcombe research the life of J. M. W. Turner.

The Man in the Moonstone. Melanie Jackson. Canada: Orca Book Publishers, 2003. Children's novel with juvenile detective Dinah Galloway investigating the Murdock Moonstone while playing the part of Coretta Cuff in a musical version of The Moonstone.

Gong Donkeys

. Richard Cameron. London: Methuen, 2004. Playscript of the story of Collins, Dickens and Ellen Ternan in Doncaster.

Death by Dickens

. Edited by Anne Perry. New York: Berkley Prime Crime, 2004. A collection of Dickens related short stories. 'The Passing Shadow' by Peter Tremayne has Dickens and Collins investigate a grisly murder.

'Blow Up with the Brig' in Thirteen Sick Tasteless Classics. Jay Dubya. Bookstand Publishing, 2006. A crude (in all senses of the word) parody retelling Collins's story.

Pavel & I. Dan Vyleta. London: Bloomsbury, 2008. Includes a character called Fosko although no other Collins connection.

The Last Dickens

. Matthew Pearl. London: Harvill Secker, 2009. The story of James Osgood of Boston publishers Fields, Osgood & Co. and his search for any traces of the unfinished half of the manuscript of The Mystery of Edwin Drood. Collins receives one two brief mentions.

Drood

. Dan Simmons. London: Quercus, 2009. Over-long, preposterous novel purporting to be a manuscript by Wilkie Collins, sealed for 125 years. It tells the story of his supposed mutually antagonistic relationship with Dickens while searching for Drood, a cross between a mesmerising phantom and a murderous master criminal.

Wanting. Richard Flanagan. Sydney: Random House Australia, 2008; re-issued by Atlantic books, 2009. The story of Sir John Franklin in Van Dieman's Land and his constant desire to return to maritime exploration; and Dickens's support for Lady Franklin. Collins has a minor role in connection with The Frozen Deep.

Tom-All-Alone's

. Lynn Shepherd. London: Corsair, 2012. Set in 1850s London, it uses the background and characters from Bleak House. The final denouement takes place in a Hampstead asylum in which is detained Anne Catherick, her treatment paid for by Sir Percival Glyde.

Cloudland. Joseph Olshan. New York: Minotaur Books, 2012. A serial killer follows the plot of the long lost manuscript of Collins's supposed last novel.
The Asylum. John Harwood. London: Jonathan Cape, 2013. Features a woman wrongly imprisoned in an asylum, drawing on The Woman in White.

The Moonstone Legacy Trilogy

. Diana de Gunzburg and Tony Wild. 2014. Comprises The Moonstone Legacy, Dreamtime and The Age of Aquarius. The first part published by Pushkin Press, 2010. Adolescent fiction set in England and India telling "the next adventures of the Moonstone."

Coup de Pierre

: A Murder Mystery in 1850s Paris. Paul Bristow. FeedARead.com Publishing, 2016. A mystery set in Paris during September 1852 using the characters of Franklin and Rachel Blake (Verinder).

A Most Dangerous Woman. Brenda Clough. 2018. A sequel to The Woman in White, mainly using the character of Marian Halcombe. Serialised online in nine episodes at www.serialbox.com/serials/mostdangerous.

* * * * *

There were also several unauthorised nineteenth century dramatic adaptations in England, America and Europe including The Woman in White, No Name, No Thoroughfare, The New Magdalen, Poor Miss Finch, A Message from the Sea and The Wreck of the Golden Mary. Some of these were issued by publishers such as De Witt, Dick, French and Lacy.