[ Plot Summary ] [ Publishing History ] [ Dramatic Version ]
| | |
| --- | --- |
| | |
| 1873 first edition in two volumes | 1873 two-volumes-in-one remainder binding |
Novel published in 1873, dedicated to the memory of Charles Allston Collins who died during its composition. One of the most didactic of Wilkie Collins's 'novels with a purpose', treating the then fashionable theme of the 'fallen woman' who attempts to put her past behind her but is repeatedly thwarted by the prejudices of respectable English society. The heroine is not only, conventionally, 'rescued' by a clergyman but, unconventionally, finally married to him.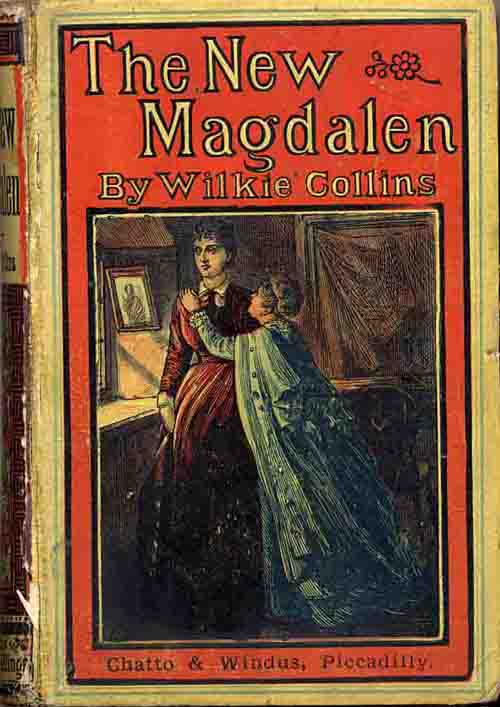 1889 Chatto & Windus yellowback
Mercy Merrick has been tricked into the tragic life of a woman of the streets, after a childhood with strolling players and gypsies. She struggles to rehabilitate herself, inspired by a sermon given by a young clergyman, Julian Gray, in the refuge where she was living. Working as a volunteer nurse in the Franco-German war of 1870, she meets Grace Roseberry, a penniless but well-connected and respectable young woman. When Grace is apparently killed by a German shell, Mercy assumes her identity. Armed with a letter of introduction to Grace's relation by marriage, Lady Janet Roy, she is helped to reach England by Horace Holmcroft, a war correspondent and acquaintance of Lady Roy. Mercy is warmly welcomed and becomes her companion and adopted daughter. With Lady Roy's approval, she becomes engaged to Horace.
Grace is not dead, however, since her life has been saved by a German brain surgeon. She returns to England and is introduced to Lady Roy by Julian Gray, but lacking the evidence to back up her claim, is rejected as an imposter. Mercy is about to confess but is antagonised by Grace's vengeful, unforgiving nature. Grace is deemed insane and is about to be confined in an asylum when Mercy once more comes under the influence of Julian Gray, who falls in love with her, and she finally admits her deception. Horace breaks off their engagement while Grace accepts £500 as a bribe for her silence and leaves for Canada. Lady Roy, genuinely fond of Mercy, tries unsuccessfully to persuade her to remain as companion. At first Mercy refuses to marry Julian, in order not to ruin his career and social position. However, he becomes seriously ill and when he recovers Mercy finally agrees to marry him. Rejected by society, they sail to the New World to start life afresh.
| | |
| --- | --- |
| | |
| 1873 Harper's first US edition | 1873 Hunter, Rose Canadian edition |
Serialisation
Temple Bar, October 1872--July 1873; Harper's New Monthly Magazine, October 1872--June 1873.
Book publication
First edition
2 volumes, Richard Bentley, London 1873. Red-brown cloth, covers blocked in black, spines lettered in gilt, cream end-papers. No half-titles. Published 17 May 1873.
Vol I vi + 298 pp
Vol II iv + 300 pp. Publishers' advertisement occupies p (299)
2 volumes in 1, green cloth with pale yellow end-papers and Chapman & Hall advertisements 1873.
1 volume editions
Bentley 1874; Chatto & Windus 1875-1925 (with 7 illustrations by George Du Maurier and C. S. Reinhart); Sutton, Stroud 1993.
1st US edition
Harper, New York 1873.
Translations
Dutch, The Hague 1873; French, Paris 1873; Russian, St Petersburg 1873.
[ Top of Page ] [ Main Works ] [ Front Page ] [ Dramatic Version ]