[ Publishing History ] [ Front Page ]
| | |
| --- | --- |
| | |
| 1863 First edition by Sampson Low | First edition sheets in remainder binding, 1873-74 |
Collection of twenty-four essays and stories, dedicated to Henry Bullar. Consisting of light-hearted pieces, serious social comment and historical narratives, all had previously been published in Household Words (HW) or All The Year Round (ATYR).
Volume I
'Talk Stoppers' (HW, 25 October 1856). Humorous essay about enemies to the art of conversation.
'A Journey in Search of Nothing' (HW, 5 September 1857). Reflections on the difficulty of enforced idleness.
'A Queen's Revenge' (HW, 15 August 1857). Reprinted in Alicia Warlock, Boston 1875. Historical account of the murder at Fontainebleu in 1657 of the Marquis Monaldeschi at the instigation of the Swedish Queen Christina.
'A petition to the Novel-Writers' (HW, 6 December 1856). Lament at the dullness and unoriginality of contemporary fiction.
'Laid up in Lodgings' (HW, 7-14 June 1856). Accounts of lodging houses and their landladies in Paris and London, based on Collins's own experiences of being laid up. Notable for his sympathetic attitude towards domestic servants.
'A Shockingly Rude Article' (HW, 28 August 1858). More enemies to conversation in the shape of 'Lady-Bores'.
'The Great (Forgotten) Invasion' (HW, 12 March 1859). Historical account of the landing in February 1797 by 1400 Frenchman on the coast of Wales.
'The Unknown Public' (HW, 21 August 1858). The estimated three million readers of Penny novel-journals who should be taught to appreciate better quality fiction.
'Give Us Room!' (HW, 13 February 1858). The dangers of crinoline and overcrowding at parties given in private houses.
'Portrait of an Author, Painted by his Publisher' (ATYR, 18-25 June 1859). Review of a colourful biographical sketch of Balzac.
'My Black Mirror' (HW, 6 September 1856). Reprinted in Alicia Warlock, Boston 1875. Reminiscences on continental travel in Austrian Italy and Switzerland.
'Mrs Badgery' (HW, 26 September 1857). Reprinted in volume 6 of Novels and Tales from Household Words, Tauchnitz volume 416, 1857; and in Alicia Warlock, Boston 1875. Story of how a bachelor, on moving into his new house, is persecuted by the constant presence of the widow of its former occupant.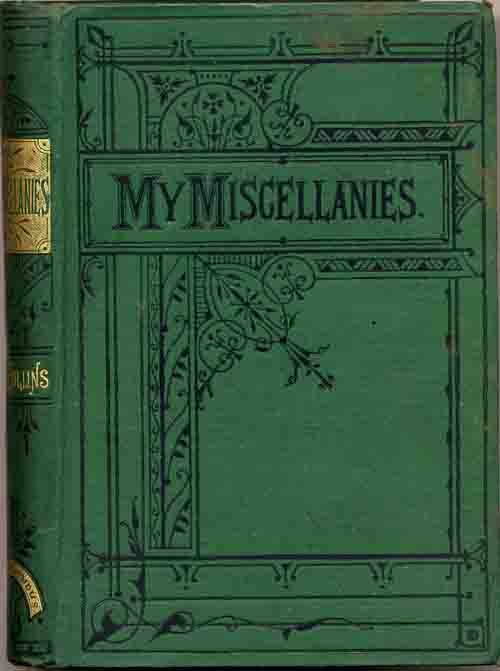 1880 Chatto & Windus edition in limp cloth
Volume II
'Memoirs of an Adopted Son' (ATYR, 20 April 1861). Reprinted in Alicia Warlock, Boston 1875. Narrative taken from records of the French police about the daring eighteenth century robber, Poulailler, and the legend of his supernatural birth and death.
'The Bachelor Bedroom' (ATYR, 6 August 1859). Bachelor types, including a parody of Hans Christian Anderson as Herr von Muffe.
'A Remarkable Revolution' (HW, 1 August 1857). Account of the quiet revolution of 1741 which placed on the throne of Russia Princess Elizabeth, daughter of Peter the Great; masterminded by the French Marquis de la Chetardie and the German surgeon Lestoc.
'Douglas Jerrold' (HW, 5 February 1859). Reprinted in volume 11 of Novels and Tales from Household Words, Tauchnitz volume 481, 1859. Biographical sketch partly based on W. B. Jerrold's The Life and Remains of Douglas Jerrold.
'Pray Employ Major Namby!' (ATYR, 4 June 1859). Account of the narrator's noisy military neighbour who conducts his domestic affairs from his front garden; brief reappearance of Lady Malkinshaw from A Rogue's Life (1856).
'The Poisoned Meal' (HW, 18 September-2 October 1858). Reprinted in volume 10 of Novels and Tales from Household Words, Tauchnitz volume 475, 1859. True story of the trial, imprisonment and eventual release of Marie-Francoise Victoire Salmon, falsely accused of murder in 1781.
'My Spinsters' (HW, 23 August 1856). Discourse on the different personalities of marriageable young ladies.
'Dramatic Grub Street' (HW, 6 March 1858). Lament in the form of a letter at the low remuneration paid to dramatic writers, explaining the poor quality of plays on the contemporary English stage in comparison with the French.
'To Think, or Be Thought for?' (HW, 13 September 1856). Suggestion that we should form our own opinions on art and not be governed by the cant of established criticism.
'Save Me from My Friends' (HW, 16 January 1858). Wry look at the disruptive influence on a writer of too many well meaning friends.
'The Cauldron of Oil' (ATYR, 11 May 1861). In 1700 the three sons of the murdered Saturnin Siadoux, by forcing the local priest to betray the confidence of the confessional, incur the death penalty for all of them as well as the murderer.
'Bold Words by a Bachelor' (HW, 13 December 1856). On the loss of true friendship between a bachelor and his male friends after their marriage.
'Mrs Bullwinkle' (HW, 17 April 1858). Story of a nurse who 'eats little and often' but consumes enough food almost to bankrupt her employer.
| | |
| --- | --- |
| | |
| 1863 First edition by Sampson Low | First edition sheets in remainder binding, 1873-74 |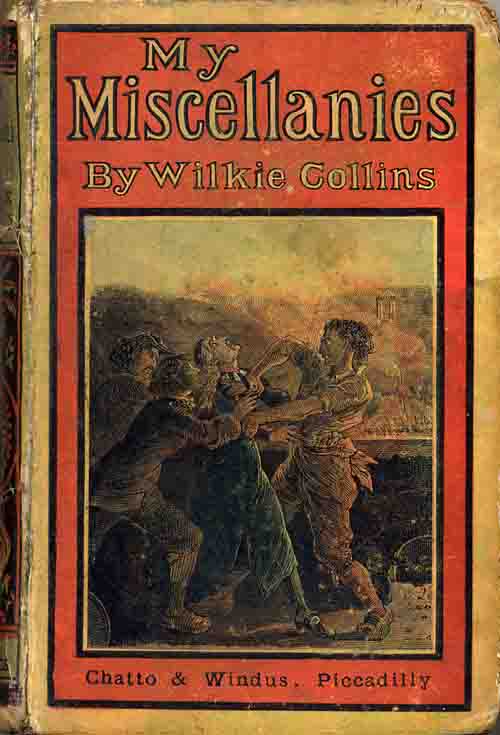 1877 Chatto & Windus yellowback
Serialisation
See individual articles above.
Book Publication
First edition
2 volumes, Sampson Low, London 1863. Green cloth, covers blocked in blind, spines lettered in gilt, green-ochre end-papers. No half-titles. Published in November 1863. Copies in brown cloth, with yellow end-papers with Chapman & Hall advertisements are of later issue (1873-1874).
Vol I (viii) + 292 pp
Vol II (iv) + 300 pp
16 pp publisher's catalogue dated November 1863 bound in at the end of each volume.
1 Volume editions
Chatto & Windus 1875-1899 (with frontispiece portrait by Halpin and 8 illustrations by Alfred Concanen; stories rearranged omitting 'Dramatic Grub Street' and an addition to original preface).
1st US edition
Harpers, New York 1874.
[ Top of Page ] [ Back to Main Works ] [ Front Page ]