MISS OR MRS? AND OTHER STORIES IN OUTLINE
[ Plot Summaries ] [ Publishing History ]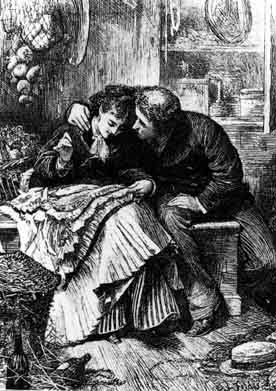 From The Graphic of December 1871
Collection of short stories published in 1873 and dedicated to Baron Von Tauchnitz. Includes 'Miss or Mrs?', '"Blow up with the Brig!" : a Sailor's Story'; and 'The Fatal Cradle'. The second edition (Chatto & Windus 1875) also includes 'A Mad Marriage' and 6 illustrations.
The title story was a novella originally published as 'Miss or Mrs? a Christmas Story in Twelve Scenes' in The Graphic Christmas Number, 25 December 1871; 200,000 copies were sold. It was republished in book form as Miss or Mrs? and other stories in outline (1873). The story of an emancipated girl of fifteen was considered somewhat shocking when it first appeared. The theme of a secret marriage to a minor and the danger of a charge of abduction was taken from the real-life experience of Collins's close friend, Edward Ward.

'Miss or Mrs?'
Natalie Graybrook is engaged to the much older Richard Turlington whom she detests but who needs her fortune of £40,000 to avoid bankruptcy. She is, however, in love with her cousin Launcelot Linzie. They marry secretly, though Natalie remains with her father Sir Joseph, to avoid a charge of abduction against Launcelot. Turlington, who is sole executor of Sir Joseph's will, learns of the secret marriage and arranges to have Sir Joseph murdered by an accomplice, Wildfang. The plot fails and Turlington is himself killed when his own revolver misfires.
"Blow up with the Brig!"
Short story originally published as 'The Ghost in the Cupboard Room', Chapter 5 of 'The Haunted House', the Christmas Number of All the Year Round for December 1859.
The Fatal Cradle: Othersise the Heartrending Story of Mr Heavysides
'My weight has been the grand misfortune of my life.'
Short story first published as 'Picking up Waifs at Sea', Chapter 4 of 'Tom Tiddler's Ground, the Extra Christmas number of All the Year Round for December 1861.
Humorous tale of two babies born simultaneously on a crowded ship bound for Australia. One is the eighth child of a poor family, the Heavysides, the other the first-born of a well-to-do couple, the Smallchilds. Their identities become confused when they are placed in the same makeshift cradle and the captain, after trying several unsuccessful methods, finally allocates them by weight, giving the heavier baby to the heavier woman. The narrator claims his life has been blighted by the captain's mistaken choice.
Serialisation
See individual stories
Book Publication
First edition
1 volume, Richard Bentley, London 1873. Reddish-brown cloth covers blocked and lettered in black, spine lettered in gilt, cream end papers. No half-title. Published 17 January 1873. Variant binding in green cloth, front cover blocked in black and lettered in gilt; no definite priority.
viii + 328 pp. Publishers advertisement occupies p (327)
Later Chatto & Windus editions 1875-1925; Sutton, Stroud 1993.
Both the Tauchnitz edition (1872, first issue without dedication) and Continental translations precede the first English edition.
Translations
French, Paris 1872; Dutch, The Hague 1872; German, Leipzig 1872.
[ Top of Page ] [ Main Works of Fiction ] [ Front Page ]