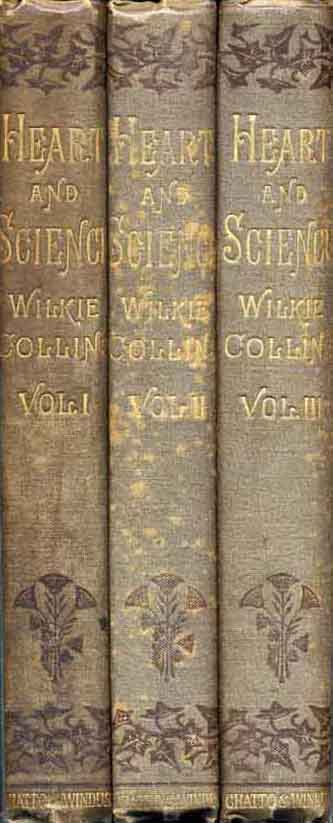 1883 Chatto & Windus first English edition
Didactic novel attacking vivisection. Collins always liked animals and during his research corresponded with the Surgeon-General, C. T. Gordon, writing in July 1882 'I am endeavouring to add my small contribution in aid of the good cause, by such means as Fiction will permit - and I am especially obliged to you for valuable "facts" which I could not have discovered for myself.' In 1884 he wrote to Frances Power Cobbe, discussing cheap reissues and translation of the story, 'What little I have been able to do towards helping this good cause is in a fair way, I hope, of appealing to a large audience.' The assistance of both is acknowledged in the preface where Collins is at pains to point out details of his research. Chapter thirty-two presents many of the arguments still valid today against what the author calls 'the hateful secrets of Vivisection.' Heart and Science received generally favourable reviews although the Athenaeum considered it had a weak ending and the Academy deemed it an 'anti-vivisection manifesto'. Swinburne later called it 'a childish and harmless onslaught on scientific research' but thought it the best, after Man and Wife, of Collins' didactic tales. He particularly liked the characters of Zo and her father. A portion of the opening chapter bears a strong resemblance to Collins's unpublished short story, 'A Little Fable'.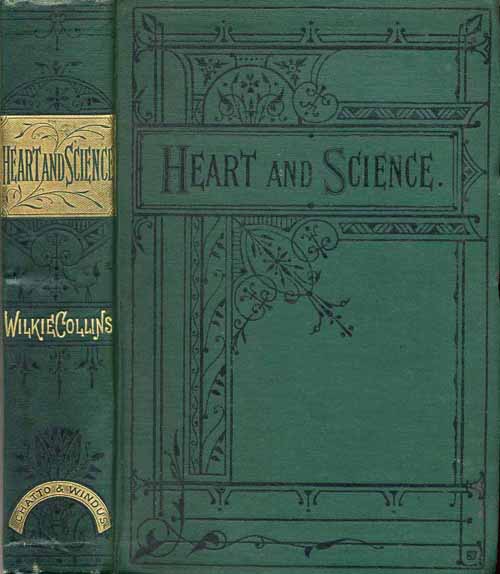 1892 small format Chatto & Windus collected edition
Ovid Vere, a brilliant young doctor, is advised to take a long rest to save his health. His formidable mother, Mrs Gallilee, has remarried and he has two step-sisters, the precocious Maria aged 12 and Zoe (called Zo) aged 10, who is hopelessly bad at her lessons. The day before Ovid is due to go away he follows an attractive girl in the street to a concert which his mother also attends. The girl faints and is discovered to be Carmina Graywell, Mrs Gallilee's niece from Italy, accompanied by her old nurse, Teresa. Carmina's father, Robert, has just died leaving her to be brought up by Mrs Gallilee in London.
Carmina soon recovers and the family solicitor, Mr Mool, reads Robert's will leaving almost his entire estate of £130,000 to Carmina. Mrs Gallilee is appointed her guardian and will receive generous expenses for her trouble. Ovid, already in love, cancels his proposed sailing trip. He takes Carmina, Zo, Maria and their governess Miss Minerva to the zoo. They encounter Dr Nathan Benjulia, a specialist in diseases of the brain and nervous system. He has an unpleasant reputation as a vivisectionist but maintains a special rapport with young Zo.
Carmina and Ovid become secretly engaged while Miss Minerva, also in love with Ovid, ingratiates herself into Carmina's confidence. Mrs Gallilee had optimistically relied on her brother's will to solve the financial difficulties caused by her extravagance and her numerous scientific committees. If Ovid and Carmina marry, she will lose her guardian's allowance, and the chance that the fortune might revert to Maria and Zo if Carmina remains single. Mrs Gallilee encourages Ovid to go away, ostensibly for the sake of his health but in reality to keep him away from Carmina. Ovid decides on a trip to Canada and visits Benjulia for a letter of recommendation to a medical colleague in Montreal.
Carmina leads an unhappy existence with her guardian and resolves to meet Ovid in Canada. She writes to him explaining her intention to travel with Teresa and complaining of her treatment by Mrs Gallilee. The music master, Mr Le Frank, inadvertently insulted by Carmina, steals her letter in revenge and gives it to Mrs Gallilee.
Mrs. Gallilee is also acquainted with Benjulia through her various scientific committees. She hears him tell a slanderous and unsubstantiated story that Carmina is the daughter of an adulterous affair and hopes the will can be invalidated. Mr Mool assures Mrs Gallilee that even if the story were true the terms of the will would still apply. Unhappy with the slur on the family name, he gives Benjulia proof that the story is a lie.
Before Benjulia can explain the truth to Mrs Gallilee she confronts Carmina with the letter to Ovid and taunts her with the scandal. Teresa ferociously attacks Mrs Gallilee while Carmina collapses in shock and is removed from the house. Mr Gallilee, for once unusually decisive, takes his daughters away and after consulting Mr Mool decides the only means of removing Carmina from his wife's guardianship is to hasten the marriage with Ovid. Carmina is treated by the family physician, Dr Null, while Benjulia in the interests of science passively watches her condition deteriorate. Le Frank meanwhile is caught spying for Mrs Gallilee and loses two of his fingers when they are accidentally trapped in a door by Teresa.
Ovid receives a monosyllabic letter from Zo which brings him back to London. He accuses Benjulia of deliberate neglect and gradually cures Carmina with an unconventional treatment for brain disease suggested by an anti-vivisection manuscript he was given in Montreal. He publishes a book based on the manuscript and Benjulia realises that his own life's work, relying as it does on vivisection, is a failure. Benjulia releases his captive animals and commits suicide, destroying his laboratory by fire. His will leaves everything to Zo. Ovid and Carmina marry and Mrs Gallilee, recovered from a nervous breakdown, resumes life with her scientific committees.
| | |
| --- | --- |
| | |
| 1883 edition by Lovell's of New York | 1884 Seaside Library Pocket Edition |
Serialisation
The Manchester Weekly Times Supplement, 22 July 1882-13 January 1883 and several other provincial newspapers; Belgravia, August 1882-June 1883.
Book Publication
First edition
3 volumes, Chatto & Windus, London 1883. Blue-grey cloth, covers blocked in dark brown, spines lettered in gilt. Green and white floral end-papers. Half-title in each volume. Published in April 1883.
Vol I xvi + 296 pp
Vol II (iv) + 296 pp
Vol III (iv) + 304 pp. 32 pp publishers' catalogue dated March 1883 bound in at end.
1 volume editions
Chatto & Windus 1884-1913. Sutton, Stroud 1990; Broadview, Toronto 1996, (critical edition, edited by Steve Farmer).
1st US edition
Seaside Library (vol 76, no 1544), New York 1883 (first book publication).
Translations
Dutch, The Hague 1883; Italy, Milan 1884; German, Berlin 1886.
At the suggestion of his friend, Monsieur Le Vicomte du Pontavice de Heussey, Collins asked his literary agent A. P. Watt to negotiate a French translation in Le Temps, an anti-vivisection newspaper.
[ Top of Page ] [ Main Works ] [ Front Page ]